SpillFix® Granular Absorbents are made from natural materials.
Press Release Summary: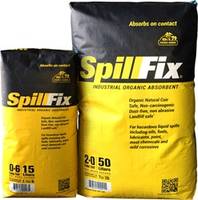 Used for effective spill absorption of hard to contain liquids, SpillFix® Granular Absorbents are used for absorbing hydrocarbons, chemicals and oil-based solutions. Suitable for landfills, incinerators, indoor or outdoor use, a 20 lb bag of SpillFix® can absorb 4x the liquid of clay granular.
---
Original Press Release:
Brady SPC Announces SpillFix® Granular Absorbents Partnership
Brady (NYSE:BRC), a global leader in industrial and safety printing systems and solutions, today announced the release of its new SpillFix® Granular Absorbents, endorsed by Brady SPC. This new absorbent product is 100% natural, safe, lightweight and easily deployed for effective spill absorption, even for hard to contain liquids such as oils and hydrocarbons.
"We view SpillFix products as the new standard in granular absorbents," says Courtney Bohman, global product manager for Brady SPC. "This solution solves some of the most common problems that clay granular presents - messes, abrasion, lack of effectiveness and dust in the workplace."
Clay-based granular typically causes dust, is easily tracked throughout a facility, and frequently causes abrasion damage to equipment and floors. In contrast, SpillFix granular is easy to deploy without the dust or mess, and the natural material prevents abrasion damage. It is highly effective, absorbing hydrocarbons, chemicals and oil-based solutions by encapsulating the liquid and holding it in place. In fact, a 20 lb. bag of SpillFix granular absorbs up to 4x the liquid of traditional clay granular.
From a health standpoint, SpillFix granular is also superior relative to market alternatives. Clay-based granulars are composed of up to 90% silica. OSHA recently issued a final rule limiting exposure to respirable crystalline silica to curb lung cancer, silicosis, chronic obstructive pulmonary disease and kidney disease.
In addition, SpillFix absorbents are natural and safe for landfills, incinerators, indoor or outdoor use. Based on third party testing, Spillfix granular is well below acceptable EPA leachate testing limits for landfill disposal as specified under Toxicity Characteristic Leaching Procedure (TCLP), Total Threshold Limit Concentration (TTLC) and Soluble Threshold Limit Concentration (STLC).
Learn more at BradyID.com/SPC
For More Information For Brady's complete product offering, visit BradyID.com.
About Brady Corporation:
Brady Corporation is an international manufacturer and marketer of complete solutions that identify and protect people, products and places. Brady's products help customers increase safety, security, productivity and performance and include high-performance labels, signs, safety devices, printing systems and software. Founded in 1914, the Company has a diverse customer base in electronics, telecommunications, manufacturing, electrical, construction, medical, aerospace and a variety of other industries. Brady is headquartered in Milwaukee, Wisconsin and as of July 31, 2016, employed approximately 6,400 people in its worldwide businesses. Brady's fiscal 2016 sales were approximately $1.12 billion. Brady stock trades on the New York Stock Exchange under the symbol BRC. More information is available on the Internet at bradycorp.com.
Contact:
SpillFix, a Brand of American Green Ventures (US) Inc.
180 Towerview Court
Cary, NC 27513
Phone: 919-535-8278
More from Controls & Controllers