Spill Containment Mat protects against nuisance leaks.
Press Release Summary: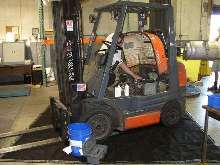 Maintenance Blanket(TM) helps capture small leaks and drips under equipment during maintenance and can also be used (temporarily) under leaking equipment. Its protective sorbent pad has fuel and chemical resistant layer of polyethylene between service item and placement area. Available in sizes from 15 ft x 4 ft x 120 mil (4720-BK) to 10 ft x 10 ft x 120 mil (4735-BK), Maintenance Blanket offers capacities from 6 to 9 gal.
---
Original Press Release:

ENPAC Corporation Announces the Addition of the New Maintenance Blanket(TM) to Its Extensive and Award-Winning Line of Portable Spill Containment Products


"Service mechanics for industrial equipment frequently have small nuisance leaks associated with maintenance activities that can turn into a catastrophe if someone happens to slip and fall", according to Chris Hilty, ENPAC VP of Sales & Marketing. The new ENPAC Maintenance Blanket(tm) helps capture small leaks and drips under equipment during maintenance, or can be used temporarily under leaking equipment. Maintenance Blanket(tm) provides a protective tough sorbent pad with a highly durable fuel and chemical resistant layer of polyethylene between the service item and the placement area. Compact and lightweight, Maintenance Blanket(tm) can be rolled or folded for easy storage.

"The ENPAC Maintenance Blanket(tm) helps eliminate nuisance drips and protects your bottom line", states Mr. Hilty. Maintenance Blanket(tm) is available in these standard sizes:

4720-BK 15'x4'x120 mil capacity: 6 gallons

4724-BK 12'x6'x120 mil capacity: 7 gallons

4730-BK 10'x8'x120 mil capacity: 8 gallons

4735-BK 10'x10'x120 mil capacity: 9 gallons

ENPAC Corporation is the world leader in Secondary Containment, Spill Prevention, and Industrial Handling Products with distributors in over 30 nations and on six (6) continents. For more information about this item, or one of the many other high quality ENPAC products, contact us by phone at 1-800-936-7229 or look us up on the web at www.ENPAC.COM < WWW.ENPAC.COM> .

Sincerely,
Laura Langhans
ENPAC Corporation
Sales & Marketing
Office: 440-975-0070
VISIT OUR WEBSITE: www.enpac.com < enpac.com>
Email: info@enpac.com < mailto:info@enpac.com>


More from Electrical Equipment & Systems