Spider™ 125 Series 2 Fusion Tool comes with removable fitting stop.
Press Release Summary: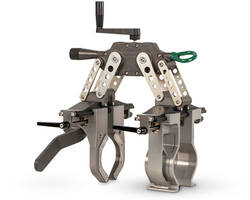 Spider™ 125 Series 2 Fusion Tool comes with a serrated jaw which helps to hold polypropylene pipe tightly. This light in weight unit is equipped with gearbox and self-locking drive handle. Product is designed for 63 mm to 125mm pipe sizes and features knobs and D-ring. Spider™125 Series is suitable for socket fusions overhead and vertically. Tool offers universal clamping jaw system which allows user to fit all pipes and fittings.
---
Original Press Release:
McElroy Spider™ 125 Series 2 Now More Adaptable, Easy to Use
The McElroy Spider™ 125 Series 2 socket fusion tool introduces an all-new, serrated jaw design that keeps polypropylene pipe perfectly round and improves force distribution to produce leak-free joints for top-performing plumbing and mechanical systems.
The upgraded tool features a removable fitting stop for crossover compatibility with HDPE pipe and a removable fitting support system to hold fittings firmly in place for proper alignment.
The Spider 125 Series 2 comes with a stronger gearbox and self-locking drive handle for smooth movement of the jaws and consistent fusion pressure for joint integrity. It is built to withstand more jobsite abuse with tougher handles and knobs; a new D-ring allows operators to easily lift and lower the tool from high spots, limiting damage from accidental drops.
McElroy introduced the Spider™ 125 for 63mm to 125mm (2" to 4") pipe to the polypropylene fusion market in 2012 after working with pipe installers to understand their processes and challenges. The Spider is easy to use, lightweight and compact, and requires only one operator, making it ideal for performing socket fusions overhead, vertically and in other tight indoor spaces from the floor to the ceiling and every space in between.
"The Spider is now the go-to tool for doing socket fusions in the indoor marketplace," said Jason Lawrence, Director of Product Development. "We developed a remarkable tool that radically improved their work, but we didn't just build a tool and rest on our laurels; we have continued to work with our industry and channel partners and look for opportunities to evolve and improve the Spider. This tool was developed to respond to the practical needs of our users on the job."
The Spider 125 Series 2 maintains its original universal clamping jaw system which fits all pipe brands and fittings and does not require inserts. It can be adjusted without tools for user-friendly setup. A Series 2 retrofit kit to update the prior Spider 125 model will be available in early 2018. McElroy.com
About McElroy
McElroy is the leading manufacturer and innovator of pipe fusion equipment for polypropylene and polyethylene pipe. The Tulsa, Okla., company offers customer-driven solutions to engineers and contractors worldwide. For more than 60 years, McElroy has successfully demonstrated a complete dedication to excellence that lies at the heart of the design, engineering and manufacturing of its products.
More from Test & Measurement