Spektra CNC Router Bits feature nACo nanocomposite coating.
Press Release Summary: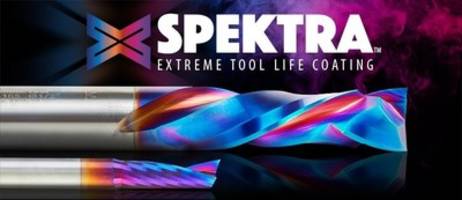 Suitable for use in high production wood and plastics industries, Spektra™ CNC Router Bits are available in solid carbide compression bits for use on MDF and laminates and solid carbide 'O' flute tools for acrylic materials. Providing up to 4,500 Vickers of solid hardness on cutting areas, units coating is resistant to heat and oxidation.
---
Original Press Release:
Amana Tool Announces Launch of Stunning New Spektra™ Extreme Tool Life Coated CNC Router Bits
Amana Tool - producer of industrial-quality carbide-tipped, solid carbide and replacement carbide cutting tools, announce the launch and immediate availability of Spektra™ extreme tool life coated CNC router bits.
Our Spektra™ bits feature a nACo® nanocomposite coating with an extreme Nano hardness and heat resistance. With a brilliant distinctively-tinted coloring, nACo provides additional improvements in four critical aspects of router tooling.
nACo coating is a micro-thin ceramic coating which enables the tool's cutting edge to retain crucial sharpness and lubricity. This provides longevity and produces cutting results of the highest quality.
Coating prevents high heat and oxidation which is detrimental to cutting tool performance.
Multi-colored hues, while attractive, will dissipate upon use and yet coating will remain fully effective.
nACo offers approximately 4,500 Vickers for impressive solid hardness on cutting areas of the tool, for an increase up to 2.5 times compared to uncoated bits.
The range of tools are aimed at use in the high production wood and plastics industries and feature solid carbide compression bits for use on MDF and Laminates and solid carbide 'O' flute tools for use on acrylic materials (Plexiglas® Lucite®) other plastics and wood. The tools are available in a variety of sizes with prices starting under $40.The compression tools are also offered in a 5-piece set featuring popular sizes.
For more information, including a list of authorized dealers and e-commerce options, visit www.amanatool.com
About Amana Tool
An industry leader for nearly 40 years, Amana Tool specializes in solid carbide and carbide-tipped cutting tools for the woodworking, plastics, aluminium and advanced materials industries. Amana Tool's full line of industrial-quality tools includes saw blades, router bits, shaping cutters and drilling tools. The company was founded in 1972 and has corporate headquarters in Farmingdale, NY. For a complete listing of Amana Tool's products, visit www.amanatool.com.
Related