Speed Reducer facilitates hole making in sheet metal.
Press Release Summary: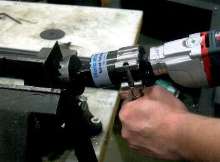 Operating with most models of handheld electric drills, Holcutter Speed Reducer offers 4:1 gear reduction ratio. It attaches to drills having ½ in. male threaded spindle or to 3/8 in. diameter models with use of adaptor. At working end, reducer features male quad-lead thread mount for attaching 14,000-Series Holcutters without need for intermediary arbor. Speed reducer is suited for applications involving tough-to-cut materials such as stainless steel.
---
Original Press Release:
Slowdown Lifts Productivity for Sheet Metal Holemaking
Long considered the source for efficient holemaking in sheet metal, "14,000-Series" Holcutters' from Hougen Manufacturing (Flint, MI) usually make short work of large diameter holes in thin materials. Now, as a complement to the annular cutter's performance, the company introduces the Holcutter Speed Reducer. Designed for operation with most models of hand held electric drills, the Speed Reducer offers a 4:1 gear reduction ratio to deliver the rugged, high-power torque developed at the drill's top RPM range while maintaining the tool's optimal speed. The economics of extended tool life when using the reducer (it reduces friction, heat and wear as well as RPM) along with maximized control for improved hole quality and performance of annular-design cutters, results in lower costs per hole and up to 3X faster cutting times. The speed reduction feature has proven ideal for applications involving tough-to-cut materials such as stainless steel and other alloys. Typical applications are found in food preparation equipment, aerospace, commercial buildings including electrical and air handling aspects, metal fabrication and manufacturing. Importantly, the slower speed/high torque performance in such materials will help eliminate work hardening and heat affected zones that otherwise could degrade component integrity. The Hougen Speed Reducer attaches directly to drills having a 1/2" male threaded spindle (after removal of the chuck) or to 3/8" diameter models with the use of an available adaptor. At the working end, the reducer unit has a male quad-lead thread mount for attaching the "14,000-Series" cutters without the need for an intermediary arbor. Coinciding with the introduction of the speed reducer, Hougen has also incorporated several new design and construction elements into the Holcutters that add to their performance. Among the upgrades are the development of a single arbor (when not using the Speed Reducer) size for all cutter diameters, a new arbor-to-cutter mounting system, and the incorporation of a shoulder on the outside diameter of the cutters to prevent the entire tool body from plunging through a competed hole. The addition of the quad- or four-lead thread, for example, not only allows for fast spin-on attachment, but also helps to make removal easier by limiting overtightening that could occur during operation. Holcutters are designed to outperform twist drills, hole saws or knock-out punches. Their cutting tooth geometry cuts clean, round, accurate and virtually burr-free holes up to three times faster than twist drills or hole saws, and six times faster than knock-out punches -without damaging or deforming the surrounding material. The cutters are M2 H.S.S. hardened and precision ground tools-unlike stamped hole saws-with sizes for making large holes of 1 1/16" up to 3" diameter.
More from Sensors, Monitors & Transducers