Spectrum Analyzer monitors environments for RF signals.
Press Release Summary: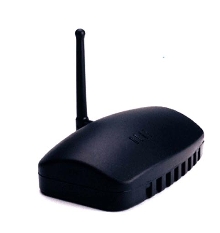 Compact SA3000 PC-based instrument covers entire 2.4 GHz ISM band, identifies optimal locations for wireless equipment, and alerts installers to potential interference. When combined with laptop computer, it provides remote site surveillance at any location. Receiver hardware interfaces to desktop or laptop PC via RS232 serial port. Software includes tools for gathering and evaluating data. Displays can be configured to frequency, span, or amplitude.
---
Original Press Release:
Low-cost Spectrum Analyzer Monitors Environments for RF Signals, Giving Confidence to 2.4 GHz Developers and OEMs

Lenexa, Kansas and Las Vegas, Nevada (IWCE) - April 25, 2002 - AeroComm's new Spectrum Analyzer (SA3000) is a compact, cost-effective, PC-based instrument covering the entire 2.4 GHz ISM band. The device identifies optimal locations for wireless equipment and alerts installers to potential interference. When combined with a laptop computer, SA3000 enables comprehensive remote site surveillance at virtually any location.

SA3000's sensitive receiver hardware interfaces to a desktop or laptop PC via standard RS232 serial port. Its small size and multiple power-supply options make it easily portable and ideal for mobile site surveys as well as for fixed site use.

Using an intuitive application software package, SA3000 closely simulates the display of a dedicated - and much more expensive - spectrum analysis instrument. Operation is menu-driven, and on-screen displays are easy to read and understand. Any user from RF novice to expert will have confidence that all possible band interferers are found.

SA3000's software includes a number of tools for gathering and evaluating data, providing optimal performance at a fraction of the cost of bulky handheld devices with small LCD screens. SA3000's displays can be configured to three user selectable parameters: Frequency (sets center frequency of the display), Span (sets the width of the display in MHz), and Amplitude (indicates strength of the captured signal). Several F-key functions then provide one-touch access to absolute and relative measurements of the captured signals.

The process is straightforward. Before installation or activation of 2.4 GHz radios, SA3000 can be used to observe any competing signals. If interference is found, SA3000 will help to identify the sources and evaluate their strength. Once there is a good understanding of the environment, the user can choose good positions for radios. Here, a server radio would be turned on to emit a beacon while SA3000 is walked around to identify where the beacon can be heard. Its signal strength would show suitable spots for repeaters and client radios.

As a specialist in the field of 2.4 GHz transceivers, AeroComm is committed to providing simple, affordable tools to enable wireless installations with minimum fuss-the company's concept of "Instant Wireless." As part of this strategy, SA3000 will be a valuable aid to engineers and developers involved with the integration of RF. The system is now available through AeroComm, Avnet, Future, and other major distributors worldwide for $1499 USD.

Formed in 1990, AeroComm was the first manufacturer to gain FCC approval for 2.4 GHz spread spectrum transceivers. Since then, AeroComm has become the leading developer of high-performance, cost-effective 2.4 GHz FHSS solutions for OEMs. The company's proprietary technology enables OEMs to integrate wireless communication into their systems faster, more reliably and at lower total cost than to design internally. The ConnexRF line of standard transceivers, custom solutions, and development tools was designed to replace bulky, costly wiring in applications where low cost, high reliability and fast data throughput are essential. An award-winning GoPrint line of printer sharing devices is also available via retail channels. ConnexLink and ConnexModem packaged radios are the newest additions to AeroComm's RF line. For more information visit online: www.aerocomm.com.

More from Electronic Components & Devices