Spectroradiometers are NIST traceable.
Press Release Summary: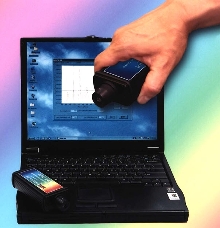 Portable Spectroradiometers provide 5 to 10 nm resolution with stray light rejection better than 10
-5
. Model RPS 240 is UV optimized for taking measurements from 240 to 440 nm and determining match between spectral power distribution and reaction efficiency. RPS 380 is designed for visible measurements from 380 to 780 nm, includes CIE software, and is effective for characterizing broad band illuminators.
---
Original Press Release:
Portable Spectroradiometers NIST Traceable and Spectra Optimized

A new series of portable spectroradiometers that are Windows® compatible and come in two models that are optimized for UV and visible applications is being introduced by International Light, Inc. of Newburyport, Massachusetts.

International Light's Portable Spectroradiometers are NIST traceable, provide 5nm to 10nm resolution with stray light rejection better than 10-5, and can acquire the full spectrum in seconds. Featuring Windows® compatible software for performing radiometric, photometric, and chromaticity measurements, they come in two models; each optimized for the UV or VIS spectra.

International Light's Model RPS 240 Portable Spectroradiometer is UV optimized for taking measurements from 240nm to 440nm and determining the match between spectral power distribution and reaction efficiency, while the RPS 380 is designed for visible measurements from 380nm to 780nm, includes CIE software, and is effective for characterizing broad band illuminators.

International Light's RPS 240 and RPS 380 Portable Spectroradiometers are priced at $7,495.00 each. Literature is available upon request.

For more information contact:

International Light, Inc.

Roy E. Grayzel, VP Sales & Marketing

17 Graf Rd.

Newburyport, MA 01950

(978) 465-5923 FAX (978) 462-0759

e-mail: ilsales@intl-light.com

www.intl-light.com
Related