Spectroradiometer is NIST-traceable.
Press Release Summary: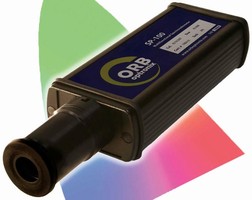 Suited for measuring flat panel displays and LED backlights in laboratory and production environments, SP-100 offers USB connectivity and uses swap-and-go interchangeable head attachments for measuring spectral radiance, irradiance, and flux. Measurement units and calibration files are automatically managed upon head attachment. Eliminating need for viewfinder during luminance and radiance measurements, internal target spot laser projects circular image onto DUT.
---
Original Press Release:

Orb Optronix Releases SP-100 Multifunctional Spectroradiometer System



KIRKLAND, Washington (December 08, 2007) - Orb Optronix, a leader in opto-electronic system design and integration, has released its fully NIST traceable spectroradiometer. The SP-100's versatile "swap-and-go" interchangeable head attachments allow measurement of spectral radiance, irradiance, and flux.

Measurement units and calibration files are automatically managed when interchangeable measurement heads are attached. For luminance and radiance measurements, the SP-100 features an internal target spot laser that projects a circular image onto the device under test, eliminating the inconvenience of a viewfinder. The SP-100 comes bundled with simple, easy-to-use software and USB connectivity.

"The SP-100 has enough spectral resolution to accurately measure Light Emitting Diodes (LEDs) and is ideal for measuring flat panel displays and LED backlights in laboratory and production environments," said David Jenkins, president of Orb Optronix.

"This is not the case with many of the spectrometers and colorimeters on the market. The SP-100 is well suited for measuring angular distribution in luminaires and solid state architectural lighting. And, with the optionally attached integrating sphere, the SP-100 can measure flux of discreet LEDs."

Orb Optronix is the Pacific Northwest's leading innovation partner providing engineering and product development services for opto-electronic systems. Orb Optronix was founded upon its commitment to solving complex interdisciplinary engineering challenges where optical performance is of primary concern. Orb Optronix offers optical engineering, electronic engineering, image processing, software engineering and mechanical engineering services in addition to a solid state lighting measurement lab thereby positioned as a uniquely qualified resource for integrated systems development.

Orb is committed to helping our partners achieve success in an increasingly complex world of cross disciplinary interactions impacting optical performance. To find out more, please visit OrbOptronix.com

More from Agricultural & Farming Products