Spectroradiometer features 200 to 1100 nm coverage.
Press Release Summary: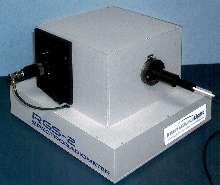 Model IL RGS-2 UV-VIS-NIR offers better than 2 nm resolution, and >10
-5
stray light rejection. It includes full radiometric/photometric software for controlling hardware and data analysis, and has USB interface. Incorporating gratings that are 600 g/mm holographic optimized at 300 nm and 600 g/mm holographic blazed at 500 nm, spectroradiometer provides ±0.1 nm wavelength repeatability and ±0.3 nm accuracy.
---
Original Press Release:
Spectroradiometer Features 200 nm to 1100 nm Coverage

A new, tabletop spectroradiometer for characterizing a wide variety of light sources, that operates over a wide spectral range with better than 10-5 stray light rejection and is NIST traceable, is being introduced by International Light, Inc. of Newburyport, Massachusetts.

The IL RGS-2 UV-VIS-NIR Spectroradiometer is a research grade instrument that features two gratings for optimal coverage between 200 nm to 1100 nm, better than 2 nm resolution, and >10-5 stray light rejection over its entire range. Capable of handling grating, filter wheel changes and gain selection automatically, this instrument includes full radiometric/photometric software for controlling hardware and data analysis, and has a USB interface.

Incorporating gratings that are 600 g/mm holographic optimized at 300 nm and a 600 g/mm holographic blazed at 500 nm, the IL RGS-2 UV-VIS-NIR Spectroradiometer, provides ±0.1 nm wavelength repeatability and ±0.3 nm accuracy. Measuring 18" L x 18" W x 12" H, a variety of fiber optic input accessories such as a cosine receptor and integrating sphere are optional.

The IL RGS-2 UV-VIS-NIR Spectroradiometer is priced from $19,995.00 (list), depending upon configuration. Literature is available upon request.

For more information contact:

International Light, Inc.

Roy E. Grayzel, VP Sales & Marketing

17 Graf Rd.

Newburyport, MA 01950

(978) 465-5923 FAX (978) 462-0759

e-mail: ilsales@intl-light.com

www.intl-light.com
Related