Spectrophotometer tests color/intensity of individual pixels.
Press Release Summary: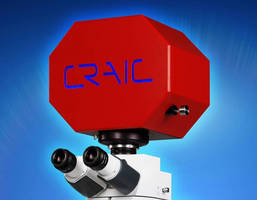 Designed to analyze color and relative intensity of individual pixels of even microdisplays, Model 308 FPD(TM) attaches to probe station or microscope and allows users to obtain color data and intensity comparisons of flat panel displays, and measures spectra on micron scale. Unit combines Lightblades(TM) spectrophotometer with QDI FilmPro(TM) software that enables it to measure thin film and cell gap thickness. It can also incorporate automated measurement, touchscreen controls, and data analysis tools.
---
Original Press Release:

Flat Panel Display Color and Intensity Testing with the New 308 FPD(TM) from CRAIC Technologies



San Dimas, CA - CRAIC Technologies, the leading manufacturer of UV-visible-NIR microscopes and microspectrometers, is pleased to announce the 308 FPD(TM): a spectrophotometer designed to analyze the color and relative intensity of individual pixels of even microdisplays. The system attaches to a probe station or microscope to enable you to obtain color data and relative intensity comparisons for flat panel displays of all types. Also able to measure spectra on the micron scale, the 308 FPD(TM) can map the variations due to mura, perform pixel-to-pixel comparisons and can even map spectral variations within a single pixel. With addition of CRAIC Technologies QDI FilmPro(TM) software, the 308 FPD(TM) can also measure thin film thickness and even cell gap thickness. This provides the display makers with an unparalleled capability to optimize and improve their flat panel display manufacturing process with a multi-faceted test solution: the 308 FPD(TM) spectrophotometer.

"Many of our customers want to measure ever smaller features on flat panel displays. With our experience of spectroscopy and imaging on the micron scale, developing the 308 FPD(TM) was a logical step for CRAIC Technologies" says Dr. Paul Martin, President. "The 308 FPD(TM) features our proprietary Lightblades(TM) spectrophotometers technology for improved performance and enhanced flexibility. This system allows for colorimetry, spectroscopy and intensity measurements on the micron scales that are common to advanced high resolution displays. The 308 FPD(TM) can also be configured to measure thin film thickness as well as for imaging. This allows for testing of many aspects of displays with a single instrument."

The 308 FPD(TM) solution combines advanced Lightblades(TM) spectrophotometers with sophisticated optics and software to enable the user to measure spectra, colorimetry, light intensity and film thickness on the micron scale. As the smallest pixels are now on the order of 10 microns across, the 308 FPD(TM) provides the ability to not only measure the color and intensity of the entire display but also to compare pixels to pixels and even map out the changes within a single pixel. Designed for the production environment, it can incorporate automated measurement capabilities, touch screen controls, easily modified processing recipes and sophisticated data analysis tools.

For more information about 308 FPD(TM) microspectrophotometer and its applications, visit www.microspectra.com.

About CRAIC Technologies: CRAIC Technologies, Inc. is a global technology leader focused microimaging and microspectroscopy in the ultraviolet, visible and near-infrared regions. CRAIC Technologies creates innovative solutions, with the very best in customer support, by listening to our customers and implementing solutions that integrate operational excellence and technology expertise. CRAIC Technologies provides solutions for customers in forensic sciences, health sciences, semiconductor, geology, nanotechnology and materials science markets whose applications demand accuracy, precision, speed and the best in customer support.

Contact information:

CRAIC Technologies, Inc.

www.microspectra.com

sales@microspectra.com

+1-310-573-8180

More from Chemicals & Gases