Spectrophotometer adds UV-VIS-NIR imaging to microscopes.
Press Release Summary: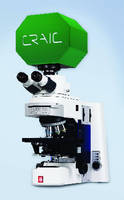 Featuring Lightblades™ spectrophotometers and optical interface technologies, 508 Perfect Vision™ can acquire 8 MP color images and spectra of microscopic sample areas by absorbance, reflectance, polarization, luminescence, and fluorescence. System can be added to open photoport of microscope or probe station for non-destructive analysis. Some applications include characterization of new materials, measurement of surface plasmon resonance, and relative intensity mapping of flat panel displays.
---
Original Press Release:

The New 508 PV(TM) from CRAIC Technologies Adds UV-VIS-NIR Spectrophotometry and Imaging to Legacy Microscopes



Harpenden, UK — Elliot Scientific is now offering the new 508 PV™ UV-visible-NIR spectrophotometer to microscopists and physicists in the UK and Ireland. The 508 Perfect Vision™ is designed to be added to an open photoport of a microscope or probe station for non-destructive analysis of the spectra of many types of microscopic samples.



Featuring CRAIC Technologies' cutting edge Lightblades™ spectrophotometers and proprietary optical interface technologies, the 508 PV™ can acquire 8 megapixel high-resolution colour images and the spectra of microscopic sample areas by absorbance, reflectance, polarisation, luminescence and fluorescence.



Applications are numerous and include characterisation of new materials, measurement of surface plasmon resonance, graphene, vitrinite reflectance of coal and high resolution colourimetric and relative intensity mapping of flat panel displays.  Thin film thickness of microscopic areas can also be measured using the 508 PV™.  The 508 PV™ spectrophotometer is a cost effective micro-analysis tool for any laboratory or manufacturing facility.



For more information about the CRAIC 508 PV™ Series UV-VIS-NIR Microspectrophotometer, please contact David Welsh at:

Elliot Scientific Ltd.

3 Allied Business Centre, Coldharbour Lane, Harpenden, Hertfordshire, AL5 4UT, United Kingdom

Tel: +44 (0)1582 766 300

Fax: +44 (0)1582 766 340

sales@elliotscientific.com

www.elliotscientific.com



About Elliot Scientific Ltd.

Elliot Scientific, based in Harpenden, is a major UK supplier of Opto-Mechanic, Laser, Cryogenic, Magnetic and Fibre-Optic components and systems to the Scientific, Research and Industrial communities. We manufacture our own ranges, including the award winning Optical Tweezers system, that are marketed under the Elliot|Martock and Elliot Scientific brands, and also offer high-tech products and equipment from leading manufacturers based around the world. For more information, please visit www.elliotscientific.com



About CRAIC Technologies

CRAIC Technologies, Inc. is a global technology leader focused on innovations for microscopy and microspectroscopy in the ultraviolet, visible and near-infrared regions. CRAIC Technologies provides answers for customers in forensic sciences, biotechnology, semiconductor, geology, nanotechnology and materials science markets who demand quality, accuracy, precision, speed and the best in customer support. For more information, please visit www.microspectra.com



CRAIC product pages on Elliot Scientific website here: http://www.elliotscientific.com/442-0/CRAIC-Technologies/



PR information from:

David Ward

Elliot Scientific Ltd

3 Allied Business Centre, Coldharbour Lane, Harpenden, Hertfordshire, AL5 4UT, United Kingdom

Tel: +44 (0)1582 766 300    Fax: +44 (0)1582 766 340

david.ward@elliotscientific.com

www.elliotscientific.com



Follow Elliot Scientific on:



Wordpress - http://bit.ly/zujscN

YouTube - http://bit.ly/yh6wGU

Facebook - http://on.fb.me/yrdvv1

Google+ - http://bit.ly/x8Ym7v

LinkedIn - http://linkd.in/zGKWw1

More from HVAC