Spectrophotometer Accessory characterizes tiny solid samples.
Press Release Summary: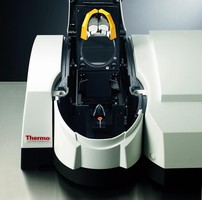 Designed for use with Evolution(TM) 300 and Evolution 600(TM) UV-Visible spectrophotometers, Praying Mantis Diffuse Reflectance Accessory can measure diffuse reflectance on samples as small as 3 mm in diameter and 1 mm deep. Overcoated mirrors enable full wavelength range of instrument to be used, while optional reaction chambers allow samples to be studied at wide variety of pressures and temperatures. Temperature can be controlled from -150 to 600°C. Variable vacuum control systems are available.
---
Original Press Release:
Thermo Launches Praying Mantis Diffuse Reflectance Accessory for Characterization of Small Solid Samples
MADISON, WI (September 27, 2006) - Thermo Electron Corporation, world leader in analytical instrumentation, introduces the Praying Mantis diffuse reflectance accessory designed for use with Thermo's Evolution(TM) 300 and Evolution 600(TM) UV-Visible spectrophotometers. The Praying Mantis sampling accessory provides researchers in the Materials Science market with the ability to characterize solid samples, such as minute amounts of a powder, by UV-Visible diffuse reflectance spectroscopy. Traditionally, diffuse reflectance accessories require large volumes of samples approximately 12 mm in diameter and several millimeters thick. However, the Praying Mantis accessory has the ability to perform a diffuse reflectance measurement on samples as small as three millimeters in diameter and one millimeter deep. This near 90-fold reduction in sample requirement enables researchers developing new compounds in small sample quantities to perform precise analyses. This accessory is ideal for researchers performing material science analysis in academic research, national and government research laboratories, as well as in inorganic chemistry and physics laboratories. A full description of the Praying Mantis accessory is available on thermo.com/prayingmantis Diffuse reflectance accessories which use integrating spheres rely on sphere coatings, limiting the wavelength range in the ultraviolet region of the spectrum. The Praying Mantis accessory incorporates overcoated mirrors enabling the full wavelength range of the instrument to be used. Additionally, optional reaction chambers are available which extend the capabilities of the accessory, greatly expanding the flexibility of the system by allowing the researcher to study the characteristics of their samples at a wide variety of temperatures and pressures. Temperatures can be controlled from -150° C to 600° C, and variable vacuum control systems are available. Furthermore, the Praying Mantis includes the ability to use the accessory with the spectrophotometer's sample compartment open, for convenience when mounting and removing samples. Also, the sample chamber can be purged with an inert gas such as dry nitrogen, allowing the diffuse reflectance characterization of samples that may be oxygen-sensitive or moisture-sensitive. The Praying Mantis is available for the Evolution 300 spectrophotometer that has an upper wavelength range of 1100 nanometers; therefore, researchers can achieve the extended wavelength coverage in the near-IR (NIR) region from 800 to 1100 nm without having to purchase a more expensive UV-Visible-NIR instrument. For more information on the Praying Mantis accessory, please call +1 800-532-4752, email analyze@thermo.com or alternatively please visit thermo.com/prayingmantis. Browse the entire Thermo UV-Visible Spectroscopy Product line at thermo.com/uv-vis Please send all leads from this editorial to: analyze@thermo.com About Molecular Spectroscopy Ideal for investigative analysis or quality control applications, spectroscopy systems from Thermo are used to determine the molecular composition of a wide range of complex samples including liquids, solids and gases. Supported by an expansive range of applications, techniques such as infrared, Raman and UV/Vis provide a molecular fingerprint for both qualitative and quantitative analysis. For more information, visit thermo.com/spectroscopy About Thermo Electron Corporation Thermo Electron Corporation is the world leader in analytical instruments. Our instrument solutions enable our customers to make the world a healthier, cleaner and safer place. Thermo's Life and Laboratory Sciences segment provides analytical instruments, scientific equipment, services and software solutions for life science, drug discovery, clinical, environmental and industrial laboratories. Thermo's Measurement and Control segment is dedicated to providing analytical instruments used in a variety of manufacturing processes and in-the-field applications, including those associated with safety and homeland security. For more information, visit thermo.com
More from Agricultural & Farming Products