Spectrodensitometer serves digital imaging and printing markets.
Press Release Summary: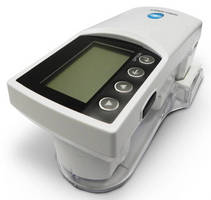 Models FD-5 and FD-7, able to simultaneously measure and account for density, color, and fluorescence of paper substrate, offer Automatic Wavelength Compensation and come with v1.2 firmware for optimized usability and operational capabilities. Firmware provides means of communicating color, so users can store and share custom color data sets among vendors/production facilities. Other features include polarization filter, printing QC and Target Match functions, and backing compensation.
---
Original Press Release:

Konica Minolta Sensing Releases Updated Firmware for FD-Series Spectrodensitometers



RAMSEY, N.J. -- Konica Minolta Sensing Americas, Inc. (KMSA), the worldwide leader in the industrial measurement of color, light and 3D shape, announces the US release of its updated firmware to its FD-Series Spectrodensitometers used in the digital imaging and printing markets.



Released in 2011 the FD-Series Spectrodensitometers were the first spectrodensitometer on the market to correspond to the ISO 13655 M1 standard for fluorescence and color measurement.  They also includes the industry's first Automatic Wavelength Compensation feature which automatically calibrates in the wavelength direction when white calibration was performed.



Today both the FD-5 and FD-7 models receive the 1.2 Firmware upgrade. The upgrade further enhances the usability and operational capabilities of this world class spectrodensitometer, packing 11 new features and improvements, while still retaining the ability to simultaneously measure and account for density, color and fluorescence( )of the paper substrate.



Brand owners will find the improved features helpful in quality assuring their products over a multitude of industrial standards. The upgrade provides the most technologically advanced way of communicating color where users can easily store and share custom color data sets among vendors and/or production facilities



Major Improvements:

--Â  A polarization filter has been included as a standard accessory enabling the device to measure and adhere to the Measurement Condition M3 of ISOÂ 13655

--Â  Printing quality control functions such as trapping, spot color density, and printing plate dot area

--Â  Target Match function displays the color difference of an ink from the target color and the density adjustment needed to bring the ink closer to the target color, allowing for better quality control of spot and process colors.

--  Pass/fail judgment against user defined targets AND industry designated targets such as ISO 12647, JapanColor, GRACoL/SWOP and PSO. Ideal tool for brand colors and on-site printing quality control allowing the evaluation of color difference, TVI and mid-tone spread

--  Gray balance feature allows for grays to be evaluated using the G7® specification method

--  Backing conversion feature allows the instrument to compensate for backing differences.  Very important when specifications are set for white backing and the printer need to measure on a black backing due to the nature of their work.

--Â  Data Management Software - Provide 3 key features:

-Â  Transfer measurement data directly into Excel spreadsheet

-Â  Manages "Color Sets" for both customized color libraries and industry guidelines like ISO 12647

-  Reading and registering of a user illuminant data.  The FD-7 measures a particular light source as a master instrument and data can be uploaded to FD-5/7 field instruments. Color control using the same illumination light source at multiple locations can be achieved.

--Â  Konica Minolta's own Spectra MagicNX v2.4 is now supported, allowing the users an easy-to-use intuitive color quality software.



FD-Series Spectrodensitometers with the upgraded firmware will be available for purchase from select graphic arts distributors and online at http://www.shopkmsa.com beginning February 2013.



Stay connected with Konica! Visit our social media sites Facebook, Twitter, and YouTube.



About Konica Minolta Sensing Americas, Inc.

Konica Minolta Sensing Americas, Inc. (KMSA), a wholly owned subsidiary of Konica Minolta Holdings USA, Inc., is recognized as the international leader of industrial color, light and 3D shape measurement. The company is responsible for product lines that continuously revolutionize how visual perception is measured by the world. Further product information can be found at http://sensing.konicaminolta.us



Stay connected with Konica Minolta Sensing! Visit our social media sites Facebook, Twitter, and YouTube.



Lou Carulli

Manager, International Marketing Communications

Konica Minolta Sensing Americas, Inc.

+1 201.785.2413



[email protected]