Fire Extinguisher and Fire Suppression Systems
Spectrex AFES Protects the MRAP CAIMAN (CAT II)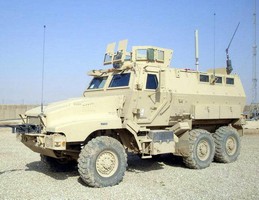 Cedar Grove, NJ (August 25, 2008) - The lives of the military troops are protected from fire by the Spectrex specially developed AFES that was integrated by BAE engineers into the CAIMAN II. Thus far over 1500 MRAP CAIMAN 6x6 (CAT II) tactical vehicles are protected by the Spectrex Automatic Fire Extinguishing systems (SAFE System).

The Spectrex AFES (Automatic Fire/Explosion Extinguishing System) protects against combat-initiated and slow-growth fires featuring high-speed optical detection in less than 3 milliseconds, explosion suppression within 150 milliseconds, multiple ultra-fast extinguishing agent discharge and dispersion. The system is capable of detecting and suppressing all possible types of fires, i.e., small or large, slow or rapidly growing, limited in area or widely spread, as well as fuel explosions which are likely to occur during combat or training service of these military vehicles.

Its control electronics provide system activation, self and built-in test capabilities and system monitoring. System components are robust, comply with the latest Mil-Specs and provide for a highly reliable, free of false alarm system. The system includes the new Detector/Controller, an additional optical detector, fast discharge extinguishing cylinders, manual activation backup and a power backup box.

CAIMAN (CAT II) is based on the well-proven, reliable Family of Medium Tactical Vehicles (FMTV) platform and the combat-proven Low Signature Armored Cab (LSAC). The Caiman incorporates the demonstrated performance of these components into a highly survivable and sustainable MRAP vehicle designed to defeat current and emerging threats on today's battlefield.

FMTV trucks are Long Term Armor Strategy (LTAS) configured cargo trucks, wreckers, expansible vans, shop vans, tractors, load handling systems, High Mobility Artillery Rocket System support vehicles and Low Velocity Air Drop configured trucks.
The Caimans have the capacity to carry 10 individuals and can accept all types of manned and remote weapon stations. In addition to the inherent ballistic protection provided by the design and materials used for the personnel compartment, the compact new automatic fire detection and suppression system, the vehicles can also be equipped with enhanced armor packages to protect against future threats.

The high level of parts commonality with the FMTV ensures that the Caiman will maintain the same levels of readiness, mobility, serviceability and worldwide support as the more than 36,000 FMTVs already fielded.

BAE Systems is the exclusive manufacturer of FMTVs and the producer of three Mine Resistant Ambush Protected (MRAP) variants, the Caiman, the RG33 and the RG31. The Caiman is manufactured at BAE Systems facility in Sealy, Texas, producing over 300 Caimans per month to meet urgent MRAP needs. BAE Systems employs more than 2,400 people in Sealy, Texas, and has 900,000 square feet of manufacturing and office space on approximately 200 acres. The location has a long history with wheeled vehicle products. It has established itself as a world-class designer, volume manufacturer and through-life supporter of high-quality, best-value, military tactical trucks and wheeled vehicle systems with payload capacities from 2.5 to 18 tons.

About Spectrex Inc.
For over 25 years, Spectrex Inc. has been providing the market with the world's best performing detection and suppression systems that meet the highest customers' requirements for reliability, quality and operation in extremely tough environments.

Spectrex Automatic Fire Extinguishing (SAFE) System is the leading armored vehicle fire and explosion suppression system installed and integrated in more than 15,000 combat and tactical armored vehicles worldwide, including RG 31, RG 33, Leopard, M48, M60, T62, T72, AMX 30, Kurrassier, Main Battle Tanks M113, BMR, VEC, VAB Armored Personnel Carriers, Pizarro, Leonidas, M109, M110, FAASV, CPV Artillery vehicles and special purpose vehicles (Engineering, Recovery, Bridge Launching). These systems are battle proven with a track record in saving lives and superior performance in many government and main contractors testing and evaluation. Several NATO and other leading armies qualified the systems.

For more information about Spectrex Inc. and its products, visit www.military-systems.com/, or contact Eric Zinn at 1(973) 239-8398 or 1(800) 452-2107 (Toll free within the US only).

More from Food Processing & Preparation