Spectral Reflectometer works in a vacuum.
Press Release Summary: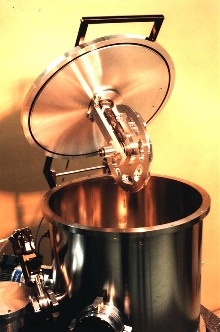 Spectral Reflectometer measures absorbance, transmittance and reflectance and performs spectral analysis to better than ±0.1% precision with wavelength resolution variable from 0.01 to 8 nm. Stainless steel reflectometer accepts samples up to 350 mm in dia, and samples may be measured from 5 to 180 deg with corresponding detector angles from 10 to 180 deg. Measurements may be performed under vacuum, purged or atmospheric environments.
---
Original Press Release:
Spectral Reflectometer

Measure absorbance, transmittance and reflectance of diverse optical samples. Units are available for the Vacuum and Extreme UV as well as for the UV-Vis-IR. The stainless steel reflectometer accepts samples up to 350-mm in diameter. Samples may be measured from 5 to 180-degrees with corresponding detector angles from 10 to 180-degrees. Theta / 2-theta measurements and off-specular scatter measurements are allowed and some units are available with integrating spheres for diffuse measurements. Heated sample holders are available and measurements may be performed under vacuum, purged or atmospheric environments.

The McPherson Spectral Reflectometer does spectral analysis to better than ±0.1 -percent precision with wavelength resolution variable from 0.01 to 8 nm. The design features include high efficiency optical systems, collimated sample probe beam, balanced and equal sample and reference path (true dual beam mode) and high gain photomultiplier detectors for optimum signal to noise