Spectral Measurement Systems measure color displays.
Press Release Summary: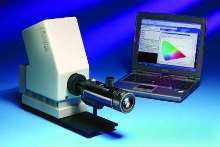 Based on RadOMA platform, Series GS-125x-VFOV is available in 4 models covering UV to near-infrared. Six different measurement apertures include 5°, 2°, 1°, 30 ft, 20 ft, and 6 ft. Automatic dynamic range optimization ensures system electrical gains are always set for best results.
---
Original Press Release:
Family of Spectral-Measurement Systems Increases Speed and Accuracy of Spectral and Photometric Measurements of Color Displays

San Diego, Calif., February 1, 2005 -- Gamma Scientific recently introduced the GS-125x-VFOV Series, a family of spectral-measurement systems designed to increase the speed and accuracy of spectral and photometric measurement of color displays.

Available in four models covering the UV to near-infrared, the series offers exceptional accuracy via high-resolution bandwidth coverage, superior wavelength and color accuracy via low thermal expansion coefficient materials and near-real-time measurement. The series is also unique in that it provides six different measurement apertures (5°, 2°, 1°, 30', 20', 6') to maximize measurement flexibility and speed.

"The GS-125x-VFOV Series offers faster, more precise quantitative measurement of your display spectra than previously possible," said Richard Austin, president of Gamma Scientific. "Our exclusive 1024-element optical detector acquires four times more simultaneous spectral elements than other multi-element systems. Also, our exclusive automatic dynamic range optimization ensures the system electrical gains are always set for the best results."

"The GS-125x-VFOV Series is based on Gamma Scientific's RadOMA platform, a durable optoelectrical design that's proven in hundreds of production lines worldwide," Austin continued. "Combined with the high-tech advantages of multi-element arrays, we've managed to achieve this level of performance while keeping prices competitive."

Gamma Scientific is a leading manufacturer of precision light-measurement instruments, including photometers and radiometers, spectroradiometers, digital light sources and laser-power meters. The company also offers exacting calibrations in its optical-standards laboratory. For more information, please contact Gamma Scientific at [email protected]. Or visit our website at www.gamma-sci.com