Specialty Steel Treating Invests in New Afc-Holcroft Equipment as Part of Multi-year Program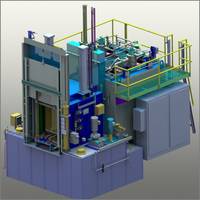 (April, 2019) Commercial heat treater Specialty Steel Treating in Fraser, Michigan (USA) has invested in new AFC-Holcroft UBQ (Universal Batch Quench) furnace and a UBTN (Universal Batch Temper) annealing furnace as companion equipment, as part of a larger multi-year equipment standardization program intended to replace older equipment provided by another supplier. The UBQ and UBT are near duplicates to equipment recently provided by AFC-Holcroft as part of the same multi-year program. 
Specialty Steel Treating has had a long relationship with AFC-Holcroft, and uses several different types of AFC-Holcroft furnaces in their production facilities in Michigan and Connecticut, including multi-row pusher furnaces designed for high capacity output, as well as some large capacity UBQ batch equipment and accessories.
Tracy Dougherty, Vice President of Sales at AFC-Holcroft states, "We're excited to be a part of the continued growth and expansion of Specialty Steel Treating. The customization of these furnaces combined with state of the art controls and IoT features (Remote Diagnostics™), enable both AFC-Holcroft and Specialty Steel Treating the ability to offer superior quality, performance and continuous improvement to customers." 
Delivery of the UBTN is expected in the 2nd quarter of 2019 to the Specialty Steel Treating site on Malyn Road in Fraser, with the UBQ to follow in the 3rd quarter to the Commerce Road plant, also located in Fraser.
About Specialty Steel Treating:
Founded in 1956, Specialty Steel Treating has been performing precision heat treating for more than 60 years. SST services numerous industries, ranging from but not limited to: Aerospace, Automotive & Truck, Industrial Bearing, Heavy Equipment and Tool & die.
SST is the only approved commercial heat treat company in the country to heat treat certain flight critical and flight safety configurations for prime aerospace and helicopter companies. 
About AFC-Holcroft:
Founded in 1916, AFC-Holcroft, is one of the US market leaders in the production of industrial furnace equipment for ferrous and non-ferrous metals. The company manufactures turn-key heat treating systems for applications including commercial heat treating, bearings, automotive, aerospace, mining, aluminum heat treatment, gear manufacturing, fastener manufacturing, and alternative energy industries. 
Member of the Aichelin Group since 2016 and headquartered in Wixom, Michigan, AFC-Holcroft operates its own subsidiaries in China and Switzerland and has a global presence through a network of partners located in Australia, Brasil, India, Mexico, Poland and Spain.
About AICHELIN Holding:
As part of Berndorf AG, AICHELIN Group is a leading provider of heat treatment solutions, such as industrial furnaces, induction hardening plants, industrial gas burners systems as well as automation technology and after-sales services. The AICHELIN headquarters are located in Mödling near Vienna. The company's roots date back to 1868. The long-established brand AICHELIN, as well as AFC-Holcroft, EMA Indutec, SAFED, BOSIO, and Noxmat, make up the group and together employ more than 1,100 people. AICHELIN Group ranges among the world's top 3 heat treatment companies. AICHELIN's subsidiaries in Europe are located in Austria, France, Germany, Slovenia, and Switzerland; the worldwide presence of the company includes subsidiaries and branch offices in China, India, Russia, and the US, as well as a sales network in 22 more countries. http://www.aichelin.com
For more information, contact [email protected].
For More Information:
J. Ciszewski
+248-624-8191