Specialty Blades Gain Both Performance And Supply-Chain Advantages With Pre-Tempered, Machine-Edged Strip Steel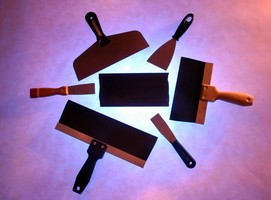 Kenilworth, NJ: Blade performance is enhanced when the manufacturer selects pre-tempered strip steel from Blue Blade Steel as the material of choice for manufacturing taping knives, saw blades, putty scrapers, doctor blades, scoring knives, hacksaw blades, jigsaw blades and razor blades.

Blue Blade Steel offers a seamless process for steel edging and pre-tempering that increases performance, reduces time-to-market delays, eliminates a secondary heat treating process and provides cost-savings.

The performance-enhancing custom machine-edged product is offered with a choice of round, square, bevel or a combination of edge profiles to provide a uniform edge finish to the strip steel coil. The computer-driven edging process assures custom, repeat edging which maintains blade-to-blade consistency in terms of uniformity, appearance, and performance integrity.

The pre-tempering process offered by Blue Blade Steel yields parts with specific hardness and structure, ensures part uniformity, reduces blade distortion and eliminates the added, shipping, labor and scheduling concerns involved with secondary post production heat treating.

Blue Blade Steel has state-of-the-art, computer-controlled heat-treating furnaces and an in-house metallurgical laboratory which assures consistent Rockwell hardness and batch-to-batch blade uniformity.

Hardened and tempered, custom edged steel is offered in the traditional "ribbon-wound" coil or presented in a compact, space-saving, material-saving oscillated-wound bundle.

For more information, please contact Mr. Jeff King; Blue Blade Steel;
123 North 8th Street; Kenilworth, NJ 07033; Tel: (908) 272-2620; Fax: (908) 272-8252; Email: BBSales@BlueBladeSteel.com; www.BlueBladeSteel.com.

More from Adhesives & Sealants