Specialized Rotary Unions for Oil & Gas Applications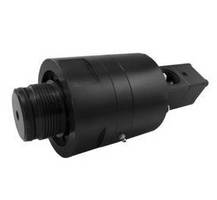 MINNEAPOLIS, Minn. - DSTI introduced its latest high pressure rotary union designed for a surface mining and drilling equipment application.

The 2 passage rotary union features a carbon steel construction, special coating process to enhance shaft sealing surface and heavy duty seals for high pressure service. It was designed as a replacement for the existing OEM design, this DSTI rotary union improved service life by over two times compared to the OEM design.
Reducing downtime and increasing efficiency, DSTI rotary unions are designed to the highest quality standards by engineers who understand the demands of oil and gas drilling, production and servicing. Exclusive seal designs specifically engineered for rotary sealing provide unsurpassed performance and dependability. Accessories & options are available to add value and meet customer requirements. Design examples include:

o Heavy duty rotary joints for drilling mud transfer

o Multi-passage hydraulic rotary unions for top drive integration

o High pressure rotary unions for hose reel service

o Large rotary unions for high flow volume

About DSTI --

Dynamic Sealing Technologies, Inc. (DSTI) specializes in the design, manufacture and integration of rotary unions and rotating joints worldwide. DSTI's rotary unions are used to distribute a variety of fluids from a stationary inlet to rotating equipment. The company offers a full line of standard products for a wide variety of applications, as well as complete, specialized rotary union design and manufacturing services.

For more information, please call 763.786.3758 or email info@dsti.com, or visit www.dsti.com.

More from Electrical Equipment & Systems