Specialized Nylon Washers lock and seal metal fasteners .
Press Release Summary: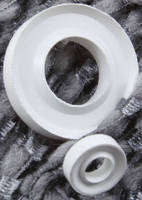 Molded in corrosion-resistant Nylon 6/6, sealing and retaining ring washers are used to lock and seal metal fasteners using cold flow principle. Torque nut causes washer ID to flow into screw or bolt threads, and washer OD will flow outward to completely surround nut base and engage hex points. With design that facilitates assembly, specialized sealing washers fit standard screw sizes No. 4, 6, 8, and 10 as well as ¼, 5/16, 3/8, and ½ in.
---
Original Press Release:

'Sealing and Retaining Ring Washers'



Micro Plastics, Inc. introduces a new line of sealing and retaining ring washers. These new specialized sealing washers add to Micros' already extensive inventory of over 2000 plastic washers.

Easy to assemble retaining washers are used to lock and seal metal fasteners using the cold flow principle. The torque nut causes washer ID to flow into screw or bolt threads. The washer's OD will flow outward, completely surrounding nut base and engaging hex points.

This complete new product line of washers will fit standard screw sizes #4, #6, #8, #10, 1/4", 5/16", 3/8" and 1/2". Washers are molded in tough corrosion resistant Nylon 6/6.

See our full line catalog #38 for a complete line of nylon fasteners that are available. FREE samples are available upon request.

See details at https://secure.microplastics.com/detail.aspx?fam=10&part=345&sec=%e1%8c%bf%eb%80%9c%eb%b5%aa%e6%89%b8%e3%b3%91%e8%9f%b4%e4%bd%91%e2%a8%92

For a FREE copy of our NEW full line catalog #38
Contact: Micro Plastics' Customer Service Department
P.O. Box 149, Hwy 178 North,
Flippin, Arkansas 72634

Technical Contact: Bruce Sanders, Sales Manager
Telephone: (870) 453-2261 or (870) 453-8861.
Fax: (870) 453-8676
E-mail: mpsales@microplastics.com
Visit our Website: www.microplastics.com

More from Materials