Special Compound Improves Heat Transfer of Vacuum Diffusion Pump Heaters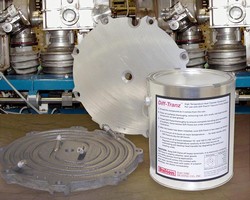 IPSWICH, MA Diff-Tranz(TM) Heat-Transfer Compound from Dalton Electric increases the efficiency of the company's Diff-Therm® platen heaters by maximizing contact between the heaters and the vacuum diffusion pumps on which they are installed.
Diff-Tranz(TM) Compound fills any gaps between the irregular surface of the pump's boiler plate and the smooth, even surface of the replacement Diff-Therm heater. This ensures the efficient and uniform transfer of heat from the platen heater to the boiler plate. Diff-Tranz is easily applied to the smooth mating surface of the Diff-Therm heater with a putty knife and withstands temperatures up to 1250° F.

High-quality tubular heating elements swaged (under 50 tons of pressure) into grey iron castings, Diff-Therm replacement platen heaters deliver uniform heating and long life. They are available immediately from stock in more than 110 combinations of shapes, sizes (diameters from 2 to 48 inches), electrical ratings, and bolt patterns for vacuum diffusion pumps made by Varian, CVC, Edwards, Vecco, Leybold, Cooke, Denton, Torr, and many other manufacturers. They are also available in custom configurations for obsolete or foreign-made pumps. Dalton Electric guarantees shipment of express orders in two business days.

For more information contact
Eli Whitney III
President, Dalton Electric Heating Co., Inc.
28 Hayward Street
Ipswich, Massachusetts 01938
TEL: (978) 356-9844, FAX: (978) 356-9846
e-mail: sales@daltonelectric.com
www.daltonelectric.com.


More from Transportation Industry Products