SpecGrade LED Grow Lights Added to the DesignLights Consortium Qualified Products List for Energy Rebates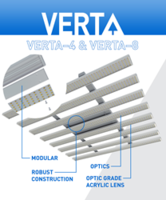 COLUMBUS, OHIO (PRWEB) JUNE 03, 2019 - SpecGrade LED, a global leader in next generation industrial LED grow lighting technology, announces their acceptance by the DesignLights Consortium to the organization's highly trusted Qualified Products List, certifying the Verta-8 and Verta-4 grow lights for energy rebate eligibility.
The DesignLights Consortium (DLC) is an independent third party certification body to which most utilities will commonly refer before awarding any of those highly coveted energy rebates. The DLC recently rolled out criteria specific to horticulture, which utilities and legal bodies can use to set energy efficiency standards and incentives for cultivators. DLC ratings are based on hard data generated by certified third-party testing labs.
SpecGrade LED is pleased to announce that their advanced LED grow lights, namely the Linea and Verta lines, have received approval from the DesignLights Consortium and will be featured on the Qualified Products List.
This means that SpecGrade LED Grow Lights qualify professional growers to receive valuable utility rebates in their operating jurisdiction when specifying SpecGrade LED lighting fixtures.
These incentives provide enormous financial relief to cultivation companies facing significant startup costs and overhead in their first year of operation. This certification also offers assurances to the cultivator that his grow light investment has undergone the scrutiny of independent third party testing.
Grow lighting fixtures approved by the DLC also serve a valuable purpose in the larger concerns of energy conservation, allowing industrial grow operations to reduce their carbon footprint along with their electricity bill.
Interested horticulture specifiers can learn more about SpecGrade LED's DLC-approved grow lights by visiting SpecGradeLED.com or contacting them at 888-410-5337.
About the Company: SpecGrade LED is a leading manufacturer of LED grow lighting fixtures for industrial and commercial horticulture applications. Headquartered in Columbus, Ohio, SpecGrade LED innovates sophisticated LED technology solutions that utilize cutting edge thermal management engineering, advanced optics, and proven photosynthetic color spectrums to achieve superior yields for a variety of horticulture clients worldwide. They have representatives all over the United States and around the world to help assist you in the specification process. Visit their website at http://www.SpecGradeLED.com for more information.
Contact Information
Josh Ogg
SpecGrade LED
http://www.specgradeled.com
+1 888.527.6621
More from Computer Hardware & Peripherals