SPDT Relay fits in small places.
Press Release Summary: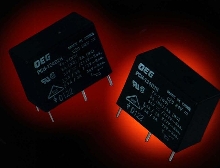 Slim PCH series relay minimizes need for board space. It has silver-tin oxide contacts in form C (SPDT-NO) arrangement. Normally open contacts are rated at 5A resistive at 277 Vac or 30 Vdc, while normally closed contact set is rated for 3 A. DC coils are available for 5-48 V and nominal coil power requirement is 400mW. Relays are UL recognized, CSA certified and VDE approved. Applications include HVAC equipment, industrial automation and machinery.
---
Original Press Release:

SPDT Relays From Tyco Electronics Conserve Valuable PCB Real Estate


HARRISBURG, Pa., February 26 - Tyco Electronics today unveiled the PCH series relay. The PCH relay has a slim design which allows designers minimize board designs and allocate board space to other components. The relay employs silver-tin oxide contacts in a 1 form C (SPDT-NO) arrangement. The normally open contacts are rated at five amps, resistive, at 277 VAC or 30 VDC. The normally closed contact set is rated for three amps. PCH relays are suitable for industrial and commercial applications ranging from HVAC equipment and household appliances to industrial automation and machinery.

DC coils are available for 5 through 48 volts. Nominal coil power requirement is 400mW. A UL Class F insulation system is standard on PCH series relays and allows operation up to 155 degrees Fahrenheit. The enclosure on the PCH relay is available in a sealed or flux-tight version.

PCH series relays are UL Recognized, CSA Certified and VDE approved. Pricing for PCH relays with a 12-volt DC coil and a sealed enclosure is $.79 in 1,000 piece quantities. Discounts are available for higher quantities.

ABOUT TYCO ELECTRONICS Tyco Electronics is one of the major business units of Tyco International (NYSE: TYC, LSE: TYI, BSE: TYC). Headquartered in Harrisburg, Pennsylvania, USA, Tyco Electronics is the world's largest passive electronic components manufacturer, and a world leader in cutting-edge wireless technologies, fiber optic active components, and complete power systems. The company has facilities located in 51 countries serving customers in the aerospace, automotive, computer, communications, consumer electronics, industrial and power industries. Tyco Electronics provides advanced technology products from over thirty well-known and respected product brands, including Agastat, Alcoswitch, AMP, AMP Netconnect, Buchanan, CoEv, Critchley, Elcon, Elo TouchSystems, HTS, M/A-COM, Madison Cable, OEG, Potter & Brumfield, Raychem, Schrack, Simel and TDI Batteries.

TYCO is a trademark


More from Safety & Security Equipment