SPC Specialty Spill Kits feature DOT-compliant buckets.
Press Release Summary: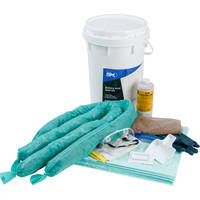 Available in four bucket models for each category of formaldehyde, bodily fluid, battery acid and mercury, SPC Specialty Spill Kits are designed with 6.5 gal re-usable screw-top bucket. Products come with absorbent pads, disposal bags, goggles, gloves, scraper and scoop. Kits are designed for hard-to-treat spills.
---
Original Press Release:
Brady SPC Debuts New Specialty Spill Kits
Specialty spill kits are designed for formaldehyde, bodily fluid, mercury and battery acid spills
Brady (NYSE:BRC), a global leader in industrial and safety printing systems and solutions, today announced its new Brady SPC Specialty Spill Kits. These new kits are designed for hard-to-treat spills, including formaldehyde, bodily fluids, mercury and battery acid.
"Our Specialty Spill Kit line was created to align with the spill response needs of our customers," says Courtney Bohman, global product manager for Brady SPC. "Based on customer requests and feedback, we developed this line with individualized solutions for the top four most common difficult spills that require unique components."
The contents of each of the four kits are provided in a re-usable, 6.5-gallon screw-top bucket that meets Department of Transportation (DOT) requirements. The buckets contain the following products for each category:
Formaldehyde: Absorbent pads, granular, acid neutralizer, scoop and scraper, gloves, goggles, respirator and disposal bags
Bodily Fluid: Absorbent pads, granular, scoop and scraper, gloves, goggles, apron, disposal bags and sanitary wipes
Battery Acid: Absorbent pads and socks, granular, acid neutralizer, scoop and scraper, gloves, goggles, apron, face shield, disposal bags
Mercury: Absorbent pads, mercury powder, scoop and scraper, gloves, goggles, disposal bags
Learn more at BradyID.com/SPC
For More Information For Brady's complete product offering, visit BradyID.com.
About Brady Corporation:
Brady Corporation is an international manufacturer and marketer of complete solutions that identify and protect people, products and places. Brady's products help customers increase safety, security, productivity and performance and include high-performance labels, signs, safety devices, printing systems and software. Founded in 1914, the Company has a diverse customer base in electronics, telecommunications, manufacturing, electrical, construction, medical, aerospace and a variety of other industries. Brady is headquartered in Milwaukee, Wisconsin and as of July 31, 2016, employed approximately 6,400 people in its worldwide businesses. Brady's fiscal 2016 sales were approximately $1.12 billion. Brady stock trades on the New York Stock Exchange under the symbol BRC. More information is available on the Internet at bradycorp.com.
Media Contact:
Casey Schaak,
(414) 438-7029
Product Contact:
Courtney Bohman,
(414) 358-6735
Brady Corporation,
6555 W. Good Hope Rd.
Milwaukee, 53223 Wisconsin, United States
More from Electronic Components & Devices