Spark Detection Systems minimize risk of fire in conveyors.
Press Release Summary: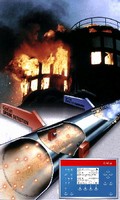 Intended for pneumatic conveying systems in production facilities, CC7000 Series Spark Detection and Extinguishing Systems use sensors to detect smallest spark's infrared radiation. Sensors send signal to control console, which displays, analyzes, and stores all events. When alarms or trouble messages occur, countermeasures can be automatically initiated. Extinguishing assemblies release atomized water spray to immediately extinguish any sparks or embers.
---
Original Press Release:

Spark and Ember Generation is a Constant Danger in Production Facilities



GreCon Spark Detection Systems can Reduce That Risk

Tigard, Oregon - 1 Oct 2007 - GreCon, Inc. announces the introduction of the CC7000 series of Spark Detection and Extinguishing systems designed to reduce the risk of fires and explosions in pneumatic conveying systems. This system can protect personnel, avoid equipment damage and costly downtime caused by these hazards by detecting and extinguishing sparks and embers before they reach the collection and storage equipment.

Spark and ember generation is a constant danger in production facilities where combustible materials are being worked, processed, transported, dried, filtered or exhausted. Insurance company statistics point out that silos, dust collection filters, and bins are areas of greatest risk, though complete production lines are not immune.

GreCon sensors detect even the smallest spark's infrared radiation. The sensor sends a signal to the control console that triggers instantaneous countermeasures to prevent the spark or ember from entering the baghouse filter or other downstream areas. For high temperature and high pressure applications, fiber optic cables transmit the infrared radiation to the sensor.

The GreCon CC7000 Control Console is the core of a spark detection system. It displays, analyzes and stores all events. When alarms or trouble messages occur, countermeasures can be automatically initiated. Each alarm or trouble event is stored and logged to the millisecond allowing personnel to identify a chain of events. All recorded events can be transferred to a PC for detailed analysis and evaluation to identify potentially hazardous areas or malfunctioning processes and equipment. Each console uses an uninterruptible power supply (UPS) and maintenance free batteries enclosed in a robust, dust-proof housing for industrial conditions.

The GreCon extinguishing assemblies release an atomized water spray to immediately extinguish any sparks or embers. The special nozzle design, when coupled with required water pressure, creates the most effective atomized extinguishment spray pattern and the water spray does not adversely affect filter media. The nozzles are flush-mounted to the conveying duct so that it does not obstruct material flow. The mounting adapters allow for easy installation and maintenance.

The CC7000 Spark Detection system is flexible and versatile. The modular designed system has the ability to connect additional cabinets to provide for configurations to over 100 zones of protection. The system can use sensors to detect sparks, fire, heat, smoke and gases that can trigger extinguishment nozzles, deluge nozzles, abort gates, or other countermeasures. Several alarm and trouble relays can be connected to the facilities' Programmable Logic Controllers (PLC) to automate processing equipment shutdown or other actions in hazardous conditions. A remote operation panel can be installed in the facilities' control room or other location to provide access to the information and control of the system.

Hundreds of applications are available in many industries including wood working factories where materials are processed through saws, planers, mortisers, hammermills, sanders and other wood working machines. Uses in the Fiber and Particle Board Industry include where materials are conveyed, ground, dried, mixed, formed and pressed into panels and then trimmed, cut to size, and sanded. The Chemical, Powder and Bulk Industries that use pneumatic conveyors to move dusts and powders from one process to another can benefit from a spark detection system. Also in the Food Industry where they roast coffee, for example, dry and pneumatically convey powders. Custom engineering can accommodate many special applications like the microwave tempering process of glass, or detecting sparks in a process that produces air bag inflation capsule for the automobile industry.

Since 1911, GreCon has created and applied innovative technology to maximize production. Our goal remains to assist our customers by providing technologically advanced equipment to ensure safer facilities, optimized production, and verifiable product quality to their customers. Innovation is our tradition. Headquartered in Alfeld, Germany, GreCon offers global service, the latest in research and development, and has distribution capabilities from multiple agents around the world, and three sister companies including GreCon, Inc., the North American headquarters based in Tigard, Oregon. GreCon is an ISO 9001 company and Factory Mutual Approved manufacturer of Spark Detection and Extinguishing Systems. GreCon also offers technologically advanced measuring equipment. Our commitment to customer service includes a complete parts inventory, factory-trained technicians and repair services for the United States, Canada, and Mexico, as well as 24 hour, 7 days-a-week emergency service.

Company Information:
GreCon, Inc.
15875 SW 74th Ave.
Tigard, Oregon 97224
Phone: 503-641-7731
E-mail: sales@grecon-us.com
www.grecon-us.com

Contact information
Bob Barnum
Phone: 503-641-7731
E-mail: sales@grecon-us.com

Product information
www.grecon-us.com

More from Fluid & Gas Flow Equipment