Spacers suit PC/104 and PC/104-Plus embedded systems.
Press Release Summary: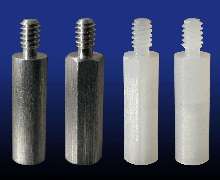 Male-Female Stacking Spacers help overcome space limitations that may occur when PC/104 and PC/104-plus embedded bus drives are installed. Standalone module stacks are used like ultra-compact bus boards, but without needing backplanes or bird cages. With nylon or aluminum male-female spacers, boards are spaced exactly 0.6 in. apart to build structurally secure module stacks.
---
Original Press Release:

Electronic Hardware for PC/104 and PC/104-Plus Embedded Systems


SEYMOUR, CONN.--Male-female stacking spacers from RAF Electronic Hardware help overcome space limitations that may occur when PC/104 and PC/104-plus embedded bus drives are installed.

With this approach, standalone module stacks are used like ultra-compact bus boards, but without needing backplanes or bird cages. With precision-made RAF nylon or aluminum male-female spacers, boards are spaced exactly 0.6 inches apart to build structurally secure module stacks. This way, system designers can easily assemble application-specific module stacks for their products.

The RAF hardware can be used with any of more than 100 different PC/104 ultra-compact bus board modules produced by manufacturers today. All RAF electronic hardware is made in the firm's U.S. manufacturing and plating facility and is available through a worldwide network of authorized distributors.

For more information on PC/104 electronic hardware, to request a comprehensive catalog, or to access RAF's complete online catalogs, visit our website at www.rafhdwe.com or call the number below.

RAF Electronic Hardware
95 Silvermine Rd., Seymour, CT 06483
203 888-2133, Fax: 203 888-9860
E-mail: [email protected]
CONTACT: Nicholas Russo