Spacers/Standoffs have rugged, insulating design.
Press Release Summary: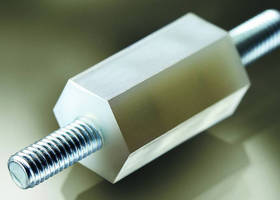 Made of studs and inserts molded in nylon body, Transipillars provide durable, insulated spacer system for board-to-board stacking or board-to-chassis mounting. Studs and inserts, made of galvanized steel and brass, are available in stud/stud, stud/insert, or insert/insert configurations with cylindrical or hexagonal body form. Pillar come in 13-64 mm lengths and can also be customized. Voltage withstand rating exceeds 11K Vdc, and insulation resistance exceeds 10,000 Mohm @ 500 Vdc.
---
Original Press Release:

New Rugged Insulated Mounting Pillars



Transipillar spacers for board- to- board and board- to- chasis mounting

Santa Rosa, California - Schurter is pleased to announce its latest new product series, Transipillars. Transipillars are also known as spacers or standoffs, made of studs and inserts molded in a nylon body. The transipillars, short for transitional pillars, provide a durable insulated spacer system for board-to-board stacking or board-to-chassis mounting. The combination of various lengths and metric thread sizes provides an exstensive array of spacing options.

The transipillar studs and inserts are made of galvanized steel and brass. They are available in stud/stud, stud/insert or insert/insert configurations with cylindrical or hexagonal body form. Pillar lengths range from 13mm to 64mm, and can also be customized.

Schurter transipillars are characterized with a high mechanical strength. The nylon material 66 provides excellent insulating properties and has a flammability rating of UL 94-V2. The voltage withstand rating is >11K VDC, insulation resistance is > 10,000MW at 500 VDC, operating temperature range is -20°C to +80°C. Applications include multi-stage PCB separation, chassis mounting of drives, motors and any general electromechanical application.

Pricing for transipillars starts at $.41 cents each up to $1.35 each at 500 pcs depending on size and configuration. See detailed specifications at www.schurterinc.com/new_pems. For sales and product information, contact Cora Umlauf at 800 848-2600 or [email protected].

About Schurter Inc.
The Schurter Group was founded in Switzerland in 1933. With its more than 75 years in business, Schurter continues to be a progressive innovator and manufacturer of Circuit Protection including Fuses, Fuseholders and Circuit Breakers, Connectors, Switches, and EMC Products, as well as providing manufacturing services for the electronic and electrical industries worldwide. Schurter's product innovation focuses on safe supply of power and making the interface between human and machine easier. Schurter's market focus is in the area of IT / Telecom, Medical, Space and Renewable Energy. Schurter, Inc. Santa Rosa, California, is the exclusive North American sales and distribution office for the Schurter Group.

SCHURTER INC.
447 Aviation Boulevard
Santa Rosa, CA 95403
Telephone 707 636 3000
Facsimile 707 636 3033
www.schurter.com