Space-Optimized Combined Trap and AAV replaces P-traps.
Press Release Summary: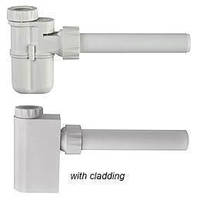 Able to replace conventional P-traps while minimizing roof penetrations, Studor® Trap-Vent™ consists of combined trap and Air Admittance Valve (AAV) designed for use in bathroom lavatory installation venting up to 6 DFU. Available models include 1¼ and 1½ in. assemblies, both in white, that are suited for remodels, restorations, and floating sinks. Compact design offers flexibility where space may be limited.
---
Original Press Release:
IPS Corporation Introduces Studor® Trap-Vent
Collierville, Tenn. -- IPS Corporation, a leading manufacturer of adhesives, solvent cements and labor-saving components for the plumbing industry, has introduced the Studor® Trap-Vent™, a combined trap and Air Admittance Valve (AAV) that replaces conventional P-traps while minimizing roof penetrations. The Trap-Vent is designed for use in a bathroom lavatory installation venting up to 6 DFU.

The models available include a 1¼" Assembly and 1½" Assembly, both available in white. Also coming soon is the Trap-Vent Cladding in white, which provides a smooth cover for a designer finish. The Trap-Vent is ideal for remodels, restorations, and floating sinks, with its compact design offering flexibility where space may be limited or where a modern look is more desirable.

"For over 40 years, Studor has developed the standard for AAV technology," said Matt Willard, Product Manager of IPS Corporation. "The new Trap-Vent offers another superior plumbing ventilation option to the Studor product line, which covers all commercial and residential applications."

Studor offers free design services to help convert plans to accommodate AAVs.

About IPS Corporation
IPS® Corporation is the trusted leader in manufacturing adhesives, solvent cements, labor-saving plumbing specialty items and numerous components and supplies for the plumbing, construction, manufacturing and plastic fabrication industries. With headquarters in California, IPS Corporation has operations throughout the United States, as well as China, and a worldwide network of sale representatives and distributors. More information is available at www.ipscorp.com.

Contact: Kariann Holland
Phone: 901-850-7145
kariann.holland@ipscorp.com
Related