SP230 Series Signal Splitters/Duplicators are programmable via USB connection.
Press Release Summary: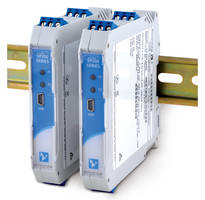 SP230 Series Signal Splitters/Duplicators are offered in four models with dual 4-20mA outputs proportional to single current, voltage or temperature input. Units can withstand to 25 g shock and 4 g vibration and are UL/cUL listed. Current models can be adjusted to support ±20 mA or 0-20 mA DC inputs and 0-20 A AC signals. Thermocouple units accept J, K, T, R, S, E, B, N sensor types and ±100 mV inputs. Splitters come with removable terminal block and spring-loaded DIN rail clips.
---
Original Press Release:
New Family of Signal Splitters are Software-Configured for Easy Setup and Precise Scaling of I/O Ranges
Acromag releases four loop-powered splitter/duplicator models that are Windows or Android-programmable by USB to control two proportional 4-20mA outputs from a single current, voltage, or temperature input signal.
Acromag's new SP230 series of isolated signal splitters/duplicators are designed for easier installation and setup. Four models, covering a broad range of sensor signals, provide dual 4-20mA outputs proportional to a single current, voltage or temperature input. A USB connection to a Windows PC or Android device enables simple, precise configuration of I/O ranges and a variety of operational settings with free software. The two-wire instruments include plug-in terminal blocks to install quickly and can acquire power from either output loop. Sink or source output wiring connections are supported. A ruggedized design operates reliably from -40 to 80°C with high immunity to electrical noise and surge protection. UL/cUL Class 1 Division 2, ATEX Zone 2 and IECex hazardous location approvals are pending. Prices start at just $250.
"The combination of software-guided setup, two-wire loop-powered installation, and removable wiring terminal blocks, make SP230s the most convenient solution for signal splitting/duplicating applications. And with a variety of models to support a spectrum of input, output, and power requirements, you can confidently standardize on this series for future signal conditioning projects," stated Robert Greenfield, Acromag's Business Development Manager.
Many SP230 series features offer great value and utility. A common USB port enables software configuration without costly proprietary adapters. Software menus let you quickly set I/O ranges and select options DIP switches cannot support. Each output can use a different input scaling range. Output clamp levels are user-configurable for custom or NAMUR-compliant values to identify fault conditions. Temperature input models add selectable upscale/downscale sensor break detection. Plus, a very low 7V burden allows use in existing loops without adding power.
Each model accommodates a variety of signal types. The current units are widely adjustable to support ±20mA or 0-20mA DC inputs and 0-20A AC signals with a toroid sensor. Voltage models convert unipolar or bipolar signals from ±1V to ±150V DC with multiple selectable ranges. Thermocouple units accept eight different sensor types (J, K, T, R, S, E, B, N), as well as ±100mV inputs.
All models deliver high accuracy, superior noise resistance and fast response times. They also demonstrate excellent linearity and stability with very low temperature drift. 1500V AC isolation safely separates the input from each output circuit and provides continuous 250V AC (354V DC) protection. High-level surge suppression adds further protection from harmful transient signals.
These units also demonstrate great mechanical integrity. SP230 splitters can withstand 25g shock and 4g vibration without fail. The removable screw terminal blocks maintain secure wiring connections. And, spring-loaded DIN rail clips provide reliable mounting with easy installation, adjustment, or removal.
Acromag, a multimillion dollar international corporation, has been developing and manufacturing measurement and control products for more than 60 years. They offer a complete line of industrial I/O products including process instruments, signal conditioning equipment, data acquisition boards, distributed I/O systems, and communication devices.
For more information about Acromag products, call the Inside Sales Department at (248) 295-0880 or Marketing Communications at (248) 295-0866. You can also visit us online at www.acromag.com, e-mail sales@acromag.com, or write Acromag at 30765 S. Wixom Rd., Wixom, MI 48393-2417 USA.
Contact This Company Download Spec Sheet
More from Controls & Controllers