SP Industries introduces CP-2102 Compactor with forward sloping design to retain fluid in container.
Press Release Summary: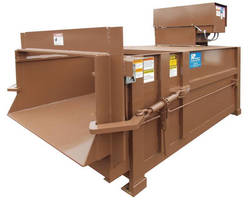 Able to handle institutional waste, packaging products, and corrugated materials, CP-2102 comes with two dual 5" cylinders. Minimizing costs and employee labor, compactor includes an optional wet pack feature that reduces foul-smelling discharge. Presenting a security chute system, unit meets or exceeds ANSI and OSHA specifications for safety. Along with large, clear top opening of 42" x 57.5", and a 40 Gallon Oil Reservoir, CP-2102 runs on 10 HP motor with Tri-Volt 3 PH.
---
Original Press Release:
SP Industries Introduces CP-2102: High Density, Dual Cylinder Stationary Compactor
SP Industries offers the CP-2102 Compactor. With a dual cylinder design, this compactor easily handles institutional waste, packaging products, wood/pallets and corrugated materials. The CP-2102 helps reduce hauling costs and employee labor with fewer trips to the landfill. With the unit's optional wet pack features, a forward-sloping floor design causes liquid to flow into the container, reducing unsightly and foul-smelling discharge behind the ram and under the compactor. Pilferage can be reduced with a security chute system. This is an ideal compactor for large retail outlets, colleges, warehouses and other heavy-duty industrial and institutional applications.

The CP-2102 offers extensive standard features and dozens of customizable options. The unit features structural steel supports (versus formed steel), superior breaker bar rigidity, thrust beam design and ram guide system. The CP-2102, like all SP Industries compactors, meets or exceeds ANSI and OSHA specifications for safety. American supplied electrical and hydraulic components are specified for reliability and easy nationwide serviceability. It is backed by SP Industries' best-in-industry warranty program.

Features of the CP-2102 include:

• Dual 5" cylinders

• Large, clear top opening of 42" x 57.5" • 40 Gal. Oil Reservoir

• 10 HP motor with Tri-Volt 3 PH

• Numerous optional features available

ABOUT SP INDUSTRIES

SP Industries was established as a manufacturing facility in 1957, initially operating as Quality Steel Fabrication. As the name implies, the company specialized in custom fabrication, working with such companies as Caterpillar Tractor, GMC, Excello Corp. and Lockheed Manufacturing, among many others. The company also built compactor rams and frames for Spartan Waste-Pac, the original designer, patentee and manufacturer of refuse reduction equipment. After several changes in ownership, the key long-term employees created a new company, SP Industries Inc., that has maintained its position as the leading waste handling equipment manufacturer in the world. The company specializes in waste handling compaction and dumper systems tailored to the specific requirements of diverse industral and commercial applications.

For more information, visit: www.bestcompactors.com

email: info@sp-industries.com or call: 269.793.3232.
More from Communication Systems & Equipment