Source Measure Unit suits high-power device characterization.
Press Release Summary: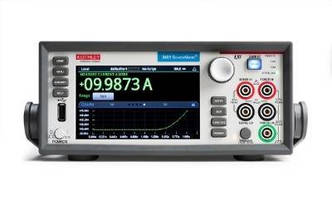 With graphical touchscreen and open source scripting language, Keithley 2461 High Current SourceMeter SMU Instrument is used for creating 10 A/100 V, 1,000 W high-current pulses that minimize power device thermal effects and maintain device integrity. Dual 18-bit, 1 MSps digitizers enable SMU to measure and visualize actual device operation, waveforms, and transient events of current and voltage simultaneously. DC and pulse source and sink performance foster in-depth insight.
---
Original Press Release:

New Source Measure Unit Addresses High-Power Device Measurement Applications



Tektronix Announces Graphical 2461 SourceMeter® Instrument for Observing and Characterizing True Device Operation Up to 10A, 1000 Watts



BEAVERTON, Ore. – Tektronix, Inc., a leading worldwide provider of test, measurement and monitoring instrumentation, today introduced an easy-to-use, graphical-based source measure unit (SMU) instrument for optimizing and characterizing high power materials, devices and modules.



The Keithley 2461 High Current SourceMeter SMU Instrument offers advanced capabilities for creating precisely-controlled 10 amp/100 volt, 1000 watt high-current pulses that minimize power device thermal effects and maintain device integrity. Its dual 18-bit high speed digitizers facilitate measuring actual device operation that can be graphically displayed right on the front panel for for immediate analysis. Based on the successful 2450 and 2460 SMU platforms, the 2461 features the highest levels of DC and pulse source and sink performance in its class, enabling users to gain deeper insight into their designs.



Researchers, scientists and design engineers developing next generation high-power materials and devices need the ability to make measurements at a variety of DC and pulse power levels for verifying device performance, while at the same time minimizing the effects of device self-heating that often result in device or module failures. This applies to such segments as materials research, semiconductor devices, circuit protection devices, advanced lighting technologies, energy storage and generation components, and power management electronics used in consumer electronics.



"Green initiatives and energy efficiency standards worldwide are driving the need for more efficient power semiconductor devices and systems," said Mike Flaherty, general manager, Keithley product line at Tektronix. "The latest high-power applications are very demanding, requiring test instrumentation capable of characterizing significantly higher currents, higher power levels, higher peak currents, and lower leakage currents than ever before. The 2461 meets this need with an unparalleled combination of class-leading performance and user friendly operation."



Like the other Keithley graphical SMUs from Tektronix, the 2461 incorporates the simple and intuitive Touch, Test, Invent® user experience that minimizes the learning curve and accelerates test setup for faster time to answer. The graphical touchscreen interface allows users to interact with results right on the front panel using natural gestures similar to a smartphone or tablet and to quickly zoom in and out of data while conducting detailed analysis. A built-in open source scripting language enables users to create libraries of reusable, customizable test software for specialized measurement applications.



The 2461's 10A/100V, 1000W pulse power enables engineers to apply more power to a device for a shorter period of time to minimize self-heating effects in a device under test compared to DC current testing that can mask its true operation. DC testing can also damage devices if the current is applied for too long. With its 18-bit dual 1 MS/s digitizers, the 2461 can measure and visualize actual device operation, waveforms, and transient events of current and voltage simultaneously. The new fast "contact check" feature helps to minimize measurement errors and false product failures associated with contact fatigue, probe tip contamination, loose or broken connections and relay failures. These capabilities give users more confidence in their test results so they can make faster design and engineering decisions.



Pricing & Availability

The 2461 High Current SourceMeter SMU instrument is available for order now worldwide. Prices start at $8,500 US MSRP. For more information go to http://www.tek.com/keithley-source-measure-units/smu-2450-60-graphical-sourcemeter.



Wondering what else Tektronix is up to? Check out the Tektronix Bandwidth Banter blog and stay up to date on the latest news from Tektronix on Twitter and Facebook.



About Tektronix

Headquartered in Beaverton, Oregon, Tektronix delivers innovative, precise and easy-to-operate test, measurement and monitoring solutions that solve problems, unlock insights and drive discovery. Tektronix has been at the forefront of the digital age for over 65 years. Join us on the journey of innovation at www.tektronix.com. In 2010, Keithley Instruments joined Tektronix as part of its test and measurement portfolio.



Tektronix is a registered trademark of Tektronix, Inc. All other trade names referenced are the service marks, trademarks or registered trademarks of their respective companies.



CONTACT:

Media Contact:

Amy Higgins

PR Manager

Tektronix

 ahiggins@tektronix.com

503.627.6497

More from Chemicals & Gases