Sorting and Grading Machine is suited for small shims.
Press Release Summary: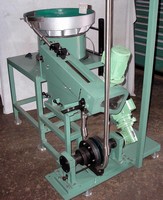 Sorting and Grading Unit, capable of operating at fixed speeds in excess of 150 ppm, feeds, sorts, and grades components according to thickness. Along with vibratory bowl feeder, unit includes counter-rotating gauge rolls, powered by geared motor, that do not bind or grip parts and are sensitive to fine tolerances. Inclination of rolls, and adjustable roll spacing from one end to other, facilitates part movement into desired position. Variable speed ac or dc motor is available.
---
Original Press Release:

Elscint Sorting & Grading Machine



Elscint Automation, the leading ISO 9001 Certified Vibratory Bowl Feeder manufacturer from India has introduced a Sorting & Grading Unit for small Shims. The Elscint Sorting and Grading Unit is designed to feed, sort and grade components like shims which require to be graded according to their thickness. This Unit operates at a speed in excess of 150 p.p.m., depending on the size of the components. The system utilizes an Elscint Vibratory Bowl Feeder of suitable mode amongst the 6 Models of Elscint Vibratory Bowl Feeders. The Bowl Feeder feeds the parts to a set of powered gauge rolls. These are powered by an Elscint Geared Motor of suitable rating. The inclination of the rolls, plus adjustable roll spacing from one end to the other enables parts to move / travel easily and rapidly into the desired position, while moving them to the discharge point. Undersized parts are first separated, followed by those within tolerance. Oversize and damaged or oversize parts continue to the end of the rolls and are discharged into a separate container. An important feature is that the rolls being counter-rotating does not bind or grip the parts and are extremely sensitive to fine tolerances. The basic unit works on a fixed speed, however, optionally Elscint can also offer Sensor and a variable speed AC or DC motor fitted with an Elscint Reduction Unit. This unit offers high flexibility for the user and can also be used for sorting and grading of Balls, Taper Rollers, Pins and similar components.

For Elscint Automation,

Monish Shete
Elscint Automation
W-191 Bhosari MIDC,
Pune 411 026. India
Tel.: +91-20-27122059
Fax: +91-20-27122994
e-mail - sales@elscintautomation.com
website - www.elscintautomation.com

Elscint Automation
Vibratory Bowl Feeders with CE Marking

Monish Shete
An ISO 9001:2000 Company
Elscint Automation
W-191 Bhosari MIDC, Pune 411026. India
sales@elscintautomation.com
www.elscintautomation.com
tel: +91-20-27122059
fax: +91-20-27122994

More from Cleaning Products & Equipment