Sorter offers automated inspection of frozen potato products.
Press Release Summary: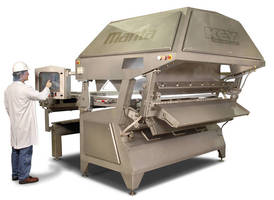 Manta® uses Vis/IR cameras, Raptor laser technology, and LED lighting to recognize object size, shape, and color differences to detect foreign material. Locating Manta at end of processing line helps assure quality of final product; it can tally specific product characteristics and trigger alarm or process adjustment if out-of-tolerance conditions are detected. Featuring 2 m wide scan area, Manta handles up to 50,700 lb of frozen potato strips per hour, based on 7 mm wide cuts.
---
Original Press Release:

Key Technology Introduces Manta® for Frozen Potato Products



June 24, 2009 - Key Technology introduces Manta® for frozen potato products. Featuring Vis/IR (visible infrared) cameras and Raptor laser technology along with new, proprietary high intensity LED lighting, high flow ejector valves, and three-way ejection capability, this large capacity sorter, located immediately prior to packaging, assures final product is free of foreign material (FM) and objectionable process-generated material. With this new application, potato processors can now automate inspection of frozen product at the end of the production line to improve food safety and product quality while reducing labor costs.

Historically, potato processors have relied on automated sorters to remove foreign material and defects from wet product after the cutter, upstream of the fryer and freezer. While these sorters are highly effective in helping to make grade, they leave a processor vulnerable to quality problems that may arise downstream. Potato processors have traditionally relied on costly, inconsistent, and unsanitary hand sorting to inspect frozen product at the end of the production line. Now, with Manta for frozen potato strips, processors can automate this end-of-line inspection.

Locating Manta at the end of the potato processing line helps assure the safety and quality of final product while simultaneously achieving additional benefits associated with improved process control and length control.

Connecting Manta with a plant-wide network and using the data collected to control the sorter as well as upstream processes extends the value of the sorter by increasing yields, cutting costs, and controlling quality in ways that have, until recently, been unattainable. By monitoring product size, shape, and color, Manta can tally specific product characteristics and trigger an alarm or process adjustment if out-of-tolerance conditions are detected or anticipated.

Adding Key's new optional three-way sorting capability to Manta allows processors to produce a higher quality product without losing valuable product to the waste stream or requiring additional sorting for rework product. With three-way sorting, processors can send foreign material and critical defects to the first reject stream and convey this to waste without re-sorting or losing valuable yield. The second reject stream can receive short pieces and non-critical defects that can be reworked and recovered while the pass stream accepts only good product that matches production specifications.

Unlike mechanical shakers and screen traditionally used for size grading, using Manta with three-way sorting at the end of the line to control length allows processors to easily set and change the acceptable length threshold in seconds.

Featuring a two-meter wide scan area, Manta handles up to 23 metric tons (50,700 pounds) of frozen potato strips per hour, based on 7 mm wide cuts. Manta is ideal for sorting all types of potato products on frozen and refrigerated processing lines including: strips, steak cuts, wedges, spirals, waffle cuts, and small whole potatoes.

Using proprietary trichromatic Vis/IR cameras, Manta recognizes each object's size and shape as well as millions of subtle color differences. The infrared sensors differentiate between potato peel and brown defects such as bruises and rot, which allows the sorter to detect and remove a wide range of defects on both peeled and peel-on potato products. Integrating Key's Raptor laser technology allows Manta to inspect objects' structural properties, which maximizes the detection and removal of foreign material. In addition to defects and foreign material, Manta, when located at the end of the production line, removes problematic process-generated material such as burn strips and starch blocks to maximize the quality of final product.

Based on Key's powerful G6 electro-optical platform, Manta offers the most advanced image processing in the industry with object-oriented logic and decision-making that combines data from multiple sensors. Featuring a modular design and proven, high-performance connectivity standards such as Camera Link(TM), FireWire®, and Ethernet, Manta ensures forward compatibility to maximize a food processor's long-term return on investment.

About Key Technology, Inc.
Key Technology, an ISO-9001 certified company, is a leading designer and manufacturer of process automation systems, integrated electro-optical inspection and sorting systems, and processing systems. Key® systems help processors to improve quality, increase yield, and reduce cost. With worldwide sales representation, the company maintains demonstration and testing facilities at its headquarters and manufacturing divisions in Walla Walla, Washington, USA, and at Key Technology BV in Beusichem, the Netherlands. The company's common stock trades on the Global Market tier of The NASDAQ Stock MarketSM under the symbol: KTEC.

More from Electrical Equipment & Systems