Soon to Debut Black News Channel Selects Accelerated Media for Best-in-Class Broadcast News Vehicles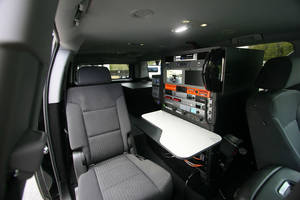 New Mobile News Platforms to be Deployed in Major Cities Across the U.S.
Auburn, MA (October 10, 2019) Accelerated Media Technologies (AMT) Inc., has formed a partnership with the Black News Channel (BNC) to deliver a fleet of highly advanced broadcast news vehicles to facilitate the newly formed networks news operations. Scheduled to air on November 15th at 6AM EST, BNC plans to have the first of two new AMT designed and built vehicles deployed in Washington, DC and Tallahassee, FL. BNCs goal is to deploy as many as 6 new broadcast news vehicles from AMT in major metro markets across the U.S.
AMT designed and is building these new BNC mobile field acquisition vehicles with the latest technologies and capabilities to provide our news department with the ability to capture any story, anywhere, and at any time," said Kenny Elcock, BNC's director of engineering and operations. We dont want traditional news vehicles for what we envision for the network, which is why we selected AMT for the job. I am confident that we made the right choice!"
BNC will be available in all of the top African American TV markets. The new network goals include giving a voice to underserved communities, building bridges among diverse cultures, facilitating national conversations on the issues facing urban communities, and engaging African Americans on national forums with the added intent of creating new role models.
AMTs Emmy award-winning engineering team put every effort forward to ensure a successful rollout of BNCs news operations by designing the latest new technologies available into their new fleet of broadcast news vehicles. These include Live latest HEVC LU610 Hybrid Encoders mated to Maverick IP high-bandwidth satellite services, ensuring connectivity and continuity of service regardless of the state of cellular availability. The state-of-the-art encoder offers the perfect hybrid solution for news vehicles by providing superior HEVC video streaming quality (up to 20Mbps) using cellular, satellite, wired internet or hybrid connections. BNCs new fleet of vehicles will be built on Chevy Suburban SUV and Nissan NV passenger van platforms with extreme customization to accommodate each vehicles myriad systems.
New networks with BNC anticipated level of national exposure and social impact do not launch every day, which makes the importance of selecting the right tools for the job essential to their success," said Tom Jennings, president of Accelerated Media Technologies. Accelerated Media is proud to have been selected for the task of providing BNC with the very latest in cutting edge mobile news platforms to get the job done right.
About AMT
Accelerated Media Technologies (AMT) is the premier supplier of broadcast news vehicles and platforms worldwide. Having won nine NAB Best of Show awards and a national Emmy Award in 2019 for its innovations, the company continues to focus on innovation and evolving news platforms to meet the operational and economic challenges of the modern newsroom. Providing efficient, cost-effective and often autonomous platforms is key to providing hyperlocal coverage that helps drive higher ratings and viewership. www.acceleratedmt.com
About BNC
Black News Channel (BNC) is an independent network that is minority-owned and operated. BNC will be the nations only provider of 24/7 cable news programming dedicated to covering the unique perspective of African American communities. BNC is the endeavor of the networks Chairman and visionary, J.C. Watts, Jr., former congressman from Oklahoma and celebrated athlete, and the networks CEO and co-founder Bob Brillante, a 40-year cable TV veteran. BNC will provide access to information and educational programming to meet the specific needs of this growing and dynamic community that is a major consumer of subscription television services. BNC will provide an authentic, new voice that represents African Americans in mainstream media and fosters political, economic, and social discourse, and will be one voice representing the many voices of African Americans. BNC programming will illuminate truth about the unique challenges facing urban communities and help close the "image gap" that exists today between the negative black stereotypes perpetuated by mainstream media news and our enterprising African American communities. BNC will launch later this year to an estimated 33 million cable TV and satellite households in the top African American TV markets, including New York, Los Angeles and Atlanta. https://blacknewschannel.com/
More from Sensors, Monitors & Transducers