Sonic Cleaning Device eliminates limescale deposits.
Press Release Summary: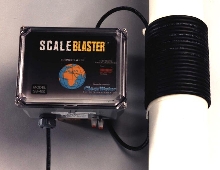 EPA-approved ScaleBlaster eliminates formation of limescale deposits in water pipes, faucets, boilers, and injection-molding and heating elements without need of water softening equipment, salts, chemicals, or maintenance. Integrated circuitry system produces modulating-frequency waveform that hits resonant frequency of calcium carbonate molecules, causing them to lose adhesive properties. Non-invasive product adds nothing to water.
---
Original Press Release:
ScaleBlaster

ScaleBlaster is a revolutionary product that eliminates formation of limescale deposits in water pipes, faucets, cooling towers, boilers, injection molding, heating elements and more without the need of water softening equipment, salts, chemicals or maintenance. The integrated circuitry system produces a unique and complex modulating frequency waveform that hits the resonant frequency of the calcium carbonate molecules causing them to lose their adhesive properties. Existing scale is removed and never forms again. The product is non-invasive and adds nothing to the water.

The product has been tested and approved by leading EPA laboratories & universities and is being used today by some of the world's largest companies. Several models are available and sizing is based on water hardness and pipe size. The unit, which normally can be installed in about 1/2 hour comes with a 100% satisfaction guarantee and is covered by a full 5-year, 100% warranty. For more information, contact Clearwater Enviro Technologies, at 1-800-756-7946.

Sales contact:

1-800-756-7946 (U.S. Only)
727-562-5186
Fax: 727-562-5187
E-mail: clrwaterl@aol.com
Website: scaleblaster.com
More from Electrical Equipment & Systems