SonarMed Announces Adoption of AirWave™ by Two New Institutions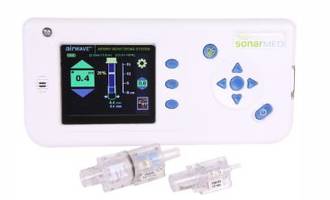 Two California Hospitals using AirWave™ Monitoring System for NICU patients
CARMEL, Ind., Feb. 07, 2018 - SonarMed today announced the adoption of the AirWave™ Monitoring System for NICU patients by two leading children's hospitals in California as part of the Company's controlled-market roll-out: CHOC Children's Hospital (CHOC) and Lucile Packard Children's Hospital Stanford. These additional adoptions demonstrate the Company's building momentum and the critical value provided by the AirWave for real-time, continuous endotracheal tube monitoring.
Five hospitals to date have adopted the AirWave™, including early adopters Huntington Hospital and Memorial Hermann Southwest Hospital, to help healthcare providers detect intubation issues. As the only cleared airway monitoring system, the AirWave uses unique, patented sound wave technology to provide real-time monitoring and detection of endotracheal tube movement, position and obstruction.
"The AirWave is steadily becoming the standard of care for adopting hospitals' NICU patients," said Tom Bumgardner, CEO of SonarMed. "As we continue to partner with high-caliber institutions in our limited market release, we are pleased to offer a clinical solution that addresses a well-known clinical challenge: to notify the clinical staff of complications related to intubated patients, especially premature babies. AirWave monitoring technology has repeatedly alerted NICU staff of arising complications at the moment they start. We thank CHOC and Lucile Packard Children's Hospital Stanford in joining us and we look forward to continued clinical success for each of their patients."
"Intubated infants especially are exceedingly fragile and a high level of care is needed to avoid breathing complications," explains Dr. Vijay Dhar, medical director, CHOC NICU. "The AirWave allows our neonatologists and respiratory staff to easily understand if the endotracheal tube tip is moving, if there are obstructions blocking airflow and where the tube is positioned to assure proper placement."
In addition to increased commercial activities during 2017, SonarMed completed a $3 million Series C financing to support the ongoing controlled market roll-out of the Company's pediatric products, as well as continuing to gather outcomes data from its user case studies.
About SonarMed
SonarMed, Inc. is privately held medical device company in Carmel, Indiana that specializes in developing solutions that increase patient safety while significantly decreasing healthcare costs. SonarMed is dedicated to reducing the dangerous challenges around airway management in pediatric and adult critical care settings. SonarMed has focused their expertise on researching and developing innovative airway monitoring products that will potentially satisfy a $350 million market within NICU and pediatric facilities, part of an overall $1 billion market. The Airwave System is currently 510(k) cleared for use in adult and pediatric patients, including neonates.
More from Test & Measurement