Level Sensors / Detectors / Transducers
Sonar Transducer is used for level control and monitoring.
Press Release Summary: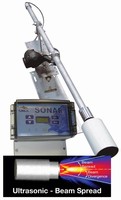 Used to locate and track differing density layers of clarifiers and thickeners within process tank, Orca products work under high suspended solids loading, sliming, and generally upset process conditions. It lets user control flocculent dosing, settling time, and bed density. Optimized for power, penetration, and calibration density range, transducer designs include 3-7 sonar crystals mounted in one head. Each sonar array produces concentrated sonar beam.
---
Original Press Release:

New Breakthrough Sonar Transducer for Level Control



Hawk, a leading global provider of level, positioning and flow measurement technology, has introduced a BREAKTHROUGH in interface level measurement.

The new line of "fourth generation" sonar transducers is designed for improved sensing of interface levels in Clarifiers and especially Thickeners! The new sensors offer big improvements in overall power, penetration, and calibration density range. They provide better capability under high suspended solids loading, 'sliming' and generally upset process conditions.

In Municipal water and waste water plants it is important to measure RAS and Floc (Fluff) level in secondary clarifiers, Bed level for primary clarifiers as well as Bed level in Thickeners. Hawk's Orca Sonar Interface products can now be used for Control not just used for Monitoring purposes. Sonar sensors may be used to locate and track layers of differing density within a process tank. The Orca sonar can allow the user to control flocculent dosing, control settling time and control the density of a bed. Various sensors have been tried in this demanding environment, but none have proved accurate or reliable enough for use in control strategies.

The new Hawk transducer designs include three to seven sonar crystals mounted in a single head. Each sonar array produces a concentrated sonar beam, providing more emitted power and collecting more returned signals. Array transducers yield better penetration, higher sensitivity, and better overall performance in the most difficult environments.

Hawk transducers and integrated self cleaning systems offer an accurate "real-time" output representing the behavior of a density interface. This output can be used as a control input, not just for monitoring.

Significant savings from the settling system can be realized through improved process control.

Visit us at WEFTEC.08, Oct. 19 - 22, Booth #15001

For further information, please contact:

North America
Jack Evans
Hawk Measurement
Phone: 888 429 5538
Phone: 978 304 3000
Email: info@hawkmeasure.com

About Hawk
Hawk, a world leader in level, positioning and flow measurement technology, provides cutting- edge equipment to the global industrial market. With over 30 years of experience, Hawk offers a record of success in a wide range of areas including mining/mineral processing, water supply/waste water, bulk material handling and chemical. Hawk's ongoing commitment aims to provide industry leading technology and cost- effective solutions. For more information about Hawk, please visit www.hawkmeasure.com.

More from Machinery & Machining Tools