Sonar System facilitates fish finding.
Press Release Summary: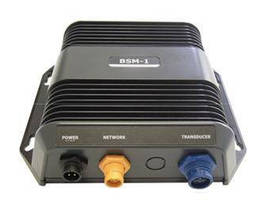 Plug-and-play compatible with Northstar 8000i multifunctional touchscreen display, Ethernet-based Northstar BSM-1 Broadband Sounder(TM) delivers peerless echo clarity and detailed underwater definition in depths up to 3,000 ft. Unit provides clear images of individual fish markings and clear separation of fish from other targets, structures, thermoclines, and bottom. Operating on 50 and 200 kHz frequencies, module is compatible with 600 W and 1 kW transducers.
---
Original Press Release:

Northstar Introduces the BSM-1 Broadband Sounder(TM) Module with Touchscreen Control



Marine Electronics Leader Unveils Revolutionary Sonar Optimizer System

Nashua, N.H. - Northstar, a leader in the design and manufacture of world-class marine navigation systems, announced today its next-generation sonar system, the Northstar BSM-1 Broadband Sounder(TM) sonar module. Raising the bar in fish-finding technology, the high-speed Ethernet-based system delivers peerless echo clarity, the most detailed underwater definition and greater depth capability -- all with the lowest output power ever achieved. The BSM-1 Broadband Sounder sonar module is plug-and-play compatible with the award-winning Northstar 8000i multifunctional display. Delivering a digitally purified sonar image, the Northstar BSM-1 module provides crystal-clear images of individual fish markings and clear separation of fish from other targets, structure, thermoclines and the bottom -- in both shallow and deep water, and with remarkable elimination of surface and turbulent water clutter.

"The new BSM-1 Broadband Sounder's compatibility with the Northstar 8000i offers anglers the only revolutionary fish-finding technology that boasts easy touchscreen operation," said Paul Comyns, director of marketing - B&G, Northstar & Simrad brands, Navico-Americas. "When you see what Broadband Sounder technology can do, you won't believe your eyes. Whether fishing saltwater flats, steep drop-offs or deep-water canyons, the results are amazing. Couple the pristine sonar performance with seamless touchscreen control, and the BSM-1 is sure to enhance any angling experience."

The Northstar Broadband Sounder sonar module provides anglers with enhanced clarity control and never-before-seen fish and structure definition in depths as great as 3000-feet (914 meters), even at relatively high boat speeds. The BSM-1 leverages Navico technology bringing together a clean, sine wave burst, low power signal, an adaptable long pulse and lightning fast digital signal processing (DSP). Operating on dual frequencies (50khz and 200khz), the Broadband Sounder sonar module is compatible with a full range of high-performance 600 watt and 1 kilowatt transducers.

Featuring an all-new plug-and-play waterproof black box, the BSM-1 is easy-to-install, mounts anywhere and is backward-compatible with existing Northstar 8000i applications by using an available transducer adapter cable. The compact module is 2.24-inches high x 7.09-inches wide x 8.02-inches long (57 x 180 x 203.75 mm) and weighs 2 pounds (907 grams or .9 kg). Compatible with 12 or 24V DC power systems, the module is waterproof to the IPX7 (submersible) standard, and is protected by a two-year warranty.

Price & Availability:

The new Northstar BSM-1 Broadband Sounder sonar module has a suggested retail price of US $795, and is available for purchase from authorized Northstar dealers and distributors throughout the United States and Canada. For more information on the Northstar BSM-1 Broadband Sounder, 8000i multifunctional displays or the entire line of Northstar marine electronics, please contact 800-628-4487 (toll-free) in the USA or 800-661-3983 (toll-free) in Canada or visit www.northstarnav.com.

About Northstar:

The Northstar brand is wholly owned by Navico, Inc., a privately held, international marine electronics company. Navico is the world's largest marine electronics company, and is the parent company to five well-established marine electronics brands: B&G®, Eagle®, Lowrance, Northstar and Simrad®.

More from Computer Hardware & Peripherals