Solids Scanners continuously measure level and volume.
Press Release Summary: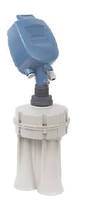 For optimized process and inventory control, Rosemount® 5708 Series 3D Solids Scanners provide level, volume, and mass measurement of bulk solids and powders in large vessels, bins, and silos. Units use acoustic measurement and 3D mapping technologies to provide accurate results, even when measuring uneven or sloping surfaces under dusty conditions. Models are available for silos up to 16 ft dia x 230 ft high, as well as for larger vessels and silos up to 39 ft dia x 230 ft high.
---
Original Press Release:

Emerson Introduces 3D Solids Scanners for Highly Accurate Continuous Level and Volume Measurement of Bulk Solids



Rosemount® 5708 Series 3D Solids Scanners provide level, volume and mass measurement of bulk solids and powders in large vessels, bins and silos for improved process and inventory control



AUSTIN, TEXAS  -- Emerson Process Management has introduced the Rosemount 5708 Series of 3D Solids Scanners for the continuous measurement of level, volume and mass of bulk solids and powders in large vessels, bins and silos. The new series uses acoustic measurement and 3D mapping technologies to provide accurate and reliable results even when measuring uneven or sloping surfaces under dusty conditions.



Rosemount 5708 Series 3D Solids Scanners provide highly accurate measurements of stored contents for improved process and inventory control. Unlike laser-based technologies that can take several hours to take measurements and require the process to be shut down, Rosemount 3D Solids Scanners provide continuous volume measurements that are representative of the material's surface. They can measure practically any kind of material including difficult-to-measure fly ash and materials with a low dielectric that would challenge other technologies. The self-cleaning design requires low maintenance even when used in the dustiest environments.



Rosemount 3D Solids Scanners are suitable for measuring solids in silos, large open bins, bulk solid storage rooms, stockpiles and warehouses. There are models to deliver either level data only or both level and volume data using intuitive monitoring software. The Rosemount scanner maps the uneven surface typically found in solids applications and can provide the minimum and maximum level, the total volume and a 3D visualization of the surface.



The Rosemount 5708 Series includes level scanners for silos up to 5m (16 feet) diameter and 70m (230 feet) height, and there is also a version for larger vessels and silos up to 12m (39 feet) diameter and 70m (230 feet) height. Emerson can also supply systems of multiple devices to cover large areas such as 30m x 70m (98 x 230 feet) warehouses.



The new Rosemount 3D Solids Scanners are part of Emerson's comprehensive range of level measurement devices for many applications across a range of industries. 3D solids scanners complement Emerson's existing Rosemount 5400 Series of non-contacting radar level transmitters and the Rosemount 5300 Series guided wave radar for solids measurement in smaller vessels.



For more information on the Rosemount 3D Solids Scanners, visit http://www.Rosemount.com/solids



About Emerson Process Management

Emerson Process Management (http://www.EmersonProcess.com), an Emerson business, is a leader in helping businesses automate their production, processing and distribution in the chemical, oil and gas, refining, pulp and paper, power, water and wastewater treatment, mining and metals, food and beverage, life sciences and other industries. The company combines superior products and technology with industry-specific engineering, consulting, project management and maintenance services. Its brands include PlantWeb™, Syncade™, DeltaV™, Fisher®, Micro Motion®, Rosemount®, Daniel™, Ovation™, Bettis™ and AMS Suite.



About Emerson

Emerson, based in St. Louis, Missouri (USA), is a global leader in bringing technology and engineering together to provide innovative solutions for customers in industrial, commercial, and consumer markets around the world. The company is comprised of five business segments: Process Management, Industrial Automation, Network Power, Climate Technologies, and Commercial & Residential Solutions. Sales in fiscal 2013 were $24.7 billion. For more information, visit http://www.Emerson.com.



Contact:

Peta Glenister, Emerson Process Management

+44 (0) 1753 756649, Peta.Glenister@Emerson.com

More from Construction Equipment and Supplies