Solid Tantalum Microchip Capacitors have medical grade design.
Press Release Summary: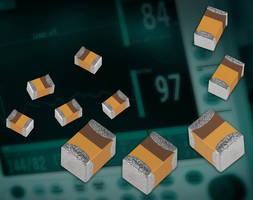 Designed for filtering, hold-up, timing, and pulsing circuits within implantable, non-life-support, and non-implantable life support applications, T4C Series offers DC leakage levels down to 0.01 CV or 0.3 µA and 2 levels of statistical screening. Case sizes include 0402/0603/0805, and voltage ratings are 4, 6.3, 10, and 16 V. Change control ensures consistent supply, and reliability is better than 0.1% failures per 1,000 hr. Capacitance is 0.47–22 µF with ±10% or ±20% capacitance tolerance.
---
Original Press Release:

AVX Releases T4C Series HRC4000 Medical Grade, Solid Tantalum Microchip Capacitors



Designed for use in the filtering, hold-up, timing, & pulsing circuits within implantable, non-life-support & non-implantable life support applications, the T4C Series offers low DC leakage levels (0.01CV or 0.3µA) in case sizes as small as 0402



FOUNTAIN INN, S.C. – AVX Corporation, a leading manufacturer of passive components and interconnect solutions, has introduced the new T4C Series HRC4000 medical grade, solid tantalum microchip capacitors. Designed for use in the filtering, hold-up, timing, and pulsing circuits within implantable, non-life-support and non-implantable life support applications, the T4C Microchip Medical Series delivers the smallest medical tantalum capacitors available in the industry (0402 case sizes) with low DC leakage levels (0.01CV or 0.3µA), in addition to change control for consistent supply and high standard reliability better than 0.1% failures per 1,000 hours, which is 10 times better than standard commercial reliability.



T4C Microchip Medical Series capacitors are manufactured and tested using AVX's patented and extremely effective Q-Process technology, which was developed to replace the Weibull Reliability Assessment as the industry standard for tantalum capacitors due to its tendency to burn-in potentially unstable units. In use since 2013, the Q-Process effectively removes components that may experience parametric shifts through customer processing or display instability through life testing, ensures stable and normalized DCL distribution, and provides reliability level verification through life testing to a minimum of 0.1% per 1,000 hours with a 90% confidence level.



"Due to the critical nature of their successful operation, medical implantable, non-life-support and non-implantable life support applications demand electronic components capable of satisfying rigorous performance requirements, including exceptionally high reliability and low DCL," said Brian Brunette, high reliability tantalum applications engineer, AVX. "As the market leader in solid tantalum, medical grade components, our new T4C Microchip Medical Series capacitors deliver unparalleled quality at competitive prices, providing customers with high standard reliability and low DC leakage levels in the smallest medical tantalum case sizes available."



T4C Microchip Medical Series capacitors are currently available in three case sizes (0402, 0603, and 0805), four rated voltages (4V, 6.3V, 10V, and 16V), and with two levels of statistical screening: T4C Standard for standard DCL and ESR limits, and T4C Custom for specific DCL and ESR parameter limits — down to 0.005CV on selected codes. Capacitance values for the series span 0.47µF to 22µF with a ±10% or ±20% capacitance tolerance, and rated operating temperatures range from 55°C to +125°C. Lead-free compatible and RoHS compliant, T4C Series capacitors are available with gold-plated or 100% tin terminations, and packaged in bulk or on 7" or 4.25" reels. Lead time for the series is 10–12 weeks.



For more information about this certification, or to request a specific rating, please contact the factory by calling 207-282-5111.



For more information about AVX's new T4C Series HRC4000 medical grade, solid tantalum microchip capacitors, please visit http://www.avx.com/products/tantalum/high-reliability/medical/t4c-microchip-medical-series/ to access the product datasheet, AVX's High Reliability Tantalum Capacitors catalog, technical and part number information, modeling software, and relevant technical papers, including "Reaching the Highest Reliability for Tantalum Capacitors," which provides in-depth information about AVX's patented Q-Process. For all other inquiries, please visit www.avx.com, call 864-967-2150, or write to One AVX Boulevard, Fountain Inn, S.C. 29644.



About AVX

AVX Corporation is a leading international supplier of electronic passive components and interconnect solutions with 20 manufacturing and warehouse facilities in 11 countries around the world. AVX offers a broad range of devices including capacitors, resistors, filters, timing and circuit protection devices, and connectors. The company is publicly traded on the New York Stock Exchange (NYSE:AVX).



For more information, contact:

Brian Brunette

Applications Engineer

AVX

207-286-2181

bbrunette@avxtantalum.com



Christine Stieglitz

PR Executive

BtB Marketing

919-872-8172

christine.stieglitz@btbmarketing.com

More from Materials