Solid Tantalum Chip Capacitors conserve space in electronics.
Press Release Summary: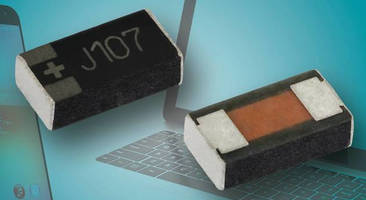 Combining polymer tantalum technology with MicroTan™ packaging, T58 series vPolyTan SMT capacitors are intended for decoupling, smoothing, filtering, and energy storage applications in handheld electronic devices. Capacitance varies from 10–330 µF, with capacitance tolerance of ±20%, over voltage ratings from 4–25 V in MM (1608-09), M0 (1608-10), W9 (2012-09), A0 (3216-18), AA (3216-18), B0 (3528-10), and BB (3528-20) case codes. ESR ranges from 50–500 mΩ at +25 °C and 100 kHz.
---
Original Press Release:

Vishay Intertechnology vPolyTan Solid Tantalum Chip Capacitors Increase Volumetric Efficiency to Save Space in Handheld Consumer Electronics



Featuring MicroTan™ Packaging Technology, Devices Offer Industry-Best Capacitance-Voltage Ratings in Six Molded Case Codes



MALVERN, Pa. – Vishay Intertechnology, Inc. (NYSE: VSH) today introduced a new series of vPolyTan solid tantalum surface-mount chip capacitors that delivers increased volumetric efficiency for handheld consumer electronics. Combining polymer tantalum technology with Vishay's high-efficiency MicroTan™ packaging, the T58 series achieves industry-best capacitance-voltage ratings in six molded case codes, including 47µF-6.3V in the compact M0 (1608-10) case and 220µF-10V and 330µF-6.3V in the BB (3528-20).



Leveraging patented MAP (multi-array packaging) assembly technology, the capacitors released today provide a 10 % improvement in space utilization compared with similar devices, saving PCB space and enabling the design of smaller and thinner end products, including smartphones, tablets, and ultra-thin laptops, in addition to wireless cards, network equipment, and audio amplifiers and pre-amplifiers. In these devices, T58 series capacitors are intended for decoupling, smoothing, filtering, and energy storage applications.



The devices offer capacitance from 10 µF to 330 µF, with capacitance tolerance of ± 20 %, over voltage ratings from 4 V to 25 V in the MM (1608-09), M0 (1608-10), W9 (2012-09), A0 (3216-18), AA (3216-18), B0 (3528-10), and BB (3528-20) case codes. The capacitors feature low impedance, low ESR from 50 mΩ to 500 mΩ at +25 °C and 100 kHz, and ripple current from 0.224 A to 1.30 A at 100 kHz, and they operate over a temperature range of -55 °C to +105 °C with voltage derating above +85 °C.



The rectangular molded case encapsulation of the T58 series is ideal for high-volume PCB assembly, and its special lead (Pb)-free L-shaped facedown terminations offer better contact to the solder pad than traditional facedown-style terminations. RoHS-compliant, halogen-free, and Vishay Green, the devices feature a Moisture Sensitivity Level (MSL) of 3 and are available in tape-and-reel packaging per the EIA-481 standard.



Samples and production quantities of the T58 series capacitors are available now, with lead times of six to eight weeks for large orders. Pricing for U.S. delivery only starts at $0.13 per piece.



Resources:

Polymer tantalum capacitors

Check distributor stock on the Vishay website.

Weekly updates: Sign up for Vishay Newsfeed



Vishay Intertechnology, Inc., a Fortune 1000 Company listed on the NYSE (VSH), is one of the world's largest manufacturers of discrete semiconductors (diodes, MOSFETs, and infrared optoelectronics) and passive electronic components (resistors, inductors, and capacitors). These components are used in virtually all types of electronic devices and equipment, in the industrial, computing, automotive, consumer, telecommunications, military, aerospace, power supplies, and medical markets. Vishay's product innovations, successful acquisition strategy, and "one-stop shop" service have made it a global industry leader. Vishay can be found on the Internet at www.vishay.com.



vPolyTan is a trademark of Vishay Intertechnology. MicroTan is a registered trademark of Vishay Intertechnology.



Link to Datasheet: http://www.vishay.com/ppg?40189 (T58)



Link to Images:https://www.flickr.com/photos/vishay/24805457781/sizes/l



Vishay Contact:

Andrew Post

Senior Manager

Global Communications

Vishay Intertechnology, Inc.

Telephone: 1 610 251-5287

Fax: 1 610 889-9429

Email: andrew.post@vishay.com



Follow Vishay:

http://twitter.com/vishayindust  

http://www.facebook.com/VishayIntertechnology

More from Material Processing