Solid State Valve Actuators feature LED status monitoring.
Press Release Summary: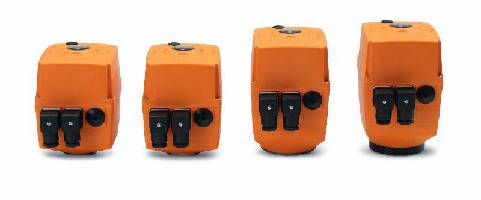 Featuring limit switches and middle position, Type EA25-250 All-Digital Electric Actuators can automate wide range of ball and butterfly valves in applications such as chemical processing, water treatment, and refrigeration. Devices operate valves with rotating angle from 90–180°, delivering nominal torques from 10–100 Nm and peak torques from 25–250 Nm. Clear display with LED indicators shows valve position and actuator status at-a-glance, in low light conditions or from distance.
---
Original Press Release:
Powerful Functionality All Inclusive in New Solid State Actuators
New all-digital Electric Actuators Type EA25-250 make it easy to migrate from mechanical technology to the digital world. Powerful functionality such as limit switches, LED status monitoring, a middle position and much more are all included as standard features.

IRVINE,Calif. - GF Piping Systems introduces a thermoplastic industry-breakthrough with the new, completely digital Electric Actuator Series Type EA25-250.  These compact new actuators feature all solid state electronics and powerful functionality that includes limit switches, optical position indicator with LED status monitoring, middle position, and much more as part of the standard package.

"With functions like limit switches and LED indication included as standard, and all of them digitally controlled, customers will really appreciate the ease in set-up and operation as well what is genuinely a seamless replacement," says Jeffrey Sixsmith, GF Piping Systems Product Manager for Valves & Actuation.

Featuring complete modularity, the new actuators can automate a wide range of ball and butterfly valves in applications such as chemical processing, water treatment and refrigeration.Designed specifically to operate valves with a rotating angle from 90° to 180°, the new EA Series delivers nominal torques ranging from 10 to 100 Nm and peak torques ranging from 25 to 250 Nm.  A clear display with LED indicators enable fast and easy reading of valve position and actuator status at a glance - whether in low light conditions or from a distance.

Other key actuator functions included in the standard package are: choice of internally powered or externally powered fail-safe return, 7-segment error code display, programmable middle position, three position feedback, an internal heating element to prevent condensation, and chemically resistant polyproplyene housing. Additionally, a variety of smart accessories can be easily added for even further automation possibilities.

With the EA25-250 design, it's extremely easy for existing customers to migrate from mechanical to digital control with a simple drop-in-replacement. "Customers will find this a true 'backwards compatible' product as the new digital model has the same exact wiring, footprint, and mounting as our previous mechanical actuator model,"  explains Sixsmith, "New customers will find an easy purchasing decision in choosing a solid-state push-button device over actuators with older mechanical technology that require cams and switches."

For Type EA25-250 technical information click here, or contact GF Piping Systems at toll Free (800) 854-4090; e-mail: us.ps@georgfischer.com; Web: www.gfps.com
          
About GF Piping Systems
GF Piping Systems supplies a full range of plastic pipe, fittings, valves, actuators, fusion machines, secondary containment, heat exchangers, custom products, and sensors and instrumentation for industrial process control.  For further information, please contact:  GF Piping Systems, 9271 Jeronimo, Irvine, CA 92618-1904 USA; Toll Free (800) 854-4090, Fax (714) 731-6923; e-mail: us.ps@georgfischer.com; Web: www.gfps.com

All trademarks are the property of their respective companies
Related