Solid State Relays suit 3-phase applications.
Press Release Summary: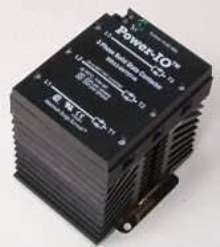 Pre-installed on heatsink, Series D Relays electrically switch 2 or 3 poles up to 660 V. Input requirement of 8 mA is directly compatible with most PLCs, PCs, and PID temperature controllers. Zero-crossing switching results in clean on/off control, reducing electrical noise to adjacent products. Units incorporate DCB direct copper bonding technology and Maximum Surge Survival technology, which includes triple layer protection against damage from voltage surges.
---
Original Press Release:
Universal Solid State Relays for 3 Phase Applications
New, universal solid state relay for 3 phase heaters, motors, or pumps. Designed in a finger safe, 3-phase housing, the Power-io "D" family switches 3 poles, and any voltage up to 660 volts. The input circuit has an ultra low, current-limited power requirement so the product is compatible with PLCs, PCs and PID temperature controllers. The DCB direct copper bonding technology and the thermally optimized heat sink design results in a high efficiency solid state contactor in a small installation space of less than 4x4x4 inches. The trademarked Maximum Surge Survival technology includes a triple layer protection against damage from voltage surges. Universal, Three Phase Solid State Relays
August, 2004 - Naperville, IL - Power-io's new "D" Family of 3 phase solid state relays electrically switch two or three poles up to 660 volts. The ultra low input requirement is only 8mA which is the directly compatible with most PLCs, PCs and PID temperature controllers. The product has the internationally requested green input status LED, the international terminal numbers (L1, T1, L2, etc), and the worldwide UL/CSA/CE approvals. Options include: standard 4-32 VDC control input, 100-280 VAC control input, or an analog 4-20mA control input. The three phase "D" family comes pre-installed on an engineered heatsink, resulting in the optimum thermal transfer in the minimum amount of panel space. The precise zero-crossing switching results in extremely clean on/off control that improves heater life and reduces electrical noise to adjacent products. Power-io's fourth generation of DCB (Direct Copper Bonding) technology and robust SCR die selection have been incorporated into this design. Any questions regarding this press release should be directed to Mike Johnson, Product Manager: 630-717-7335 or mike.johnson@power-io.com Available in the U.S. from:
Power-io, 537 Braemar Avenue, Naperville, IL 60563. Telephone +1 630 717 7335 Web: www.power-io.com Contact information: Mike Johnson -- SSR Product Manager
More from Machinery & Machining Tools