Solid State Relays have current monitoring feature.
Press Release Summary: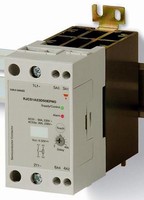 Microprocessor-controlled SOLITRON RJCS Series features internal current sensing circuitry that monitors industrial heating equipment and reacts to various load failure conditions. Equipped with heat sink and internal over-temperature and over-current protection, DIN rail-mount relays are available with NPN or PNP, NO or NC alarm outputs. They can switch 50 A single phase AC loads at up to 660 Vac when controlled by 4-32 Vdc signal, and alarm functions can be set locally or remotely.
---
Original Press Release:

Solid State Relays with Current Monitoring Feature



May 26, 2006 - Buffalo Grove, Illinois - Carlo Gavazzi has expanded the SOLITRON Series with the addition of the RJCS Series Current Monitoring Solid State Relay. This microprocessor-controlled, relay is capable of switching 50-amp single phase AC loads at up to 660 VAC, when controlled by a 4-32 VDC signal. Its internal current sensing circuitry monitors and reacts to a number of load failure conditions. The RJCS's alarm functions can be set locally or remotely from a standard PLC. Internal over temperature and over current protection is standard. The RJCS can be ordered with either NPN or PNP normally open or closed alarm outputs. The RJCS has an integrated heat sink and simply snaps to DIN rail.

RJCS solid-state relays are designed for industrial heating equipment where load failures need to be monitored for and prevented. RJCS can monitor, report locally (LED), remotely (PLC) and react to following line failures: Partial or complete load failure: desired full load current can be preset locally by pressing "Teach" membrane button or remotely by sending a signal from PLC controller. A time delay for a load alarm can be adjusted from 2-40 sec by a build-in potentiometer. Once the load is switched on, the RJCS will monitor load current and if it drops more than 13% below set point and for longer than preset delay time, it will trigger and open collector alarm and switch-off the load. Line voltage loss, open thyristor circuit: RJCS will not switch on the load if no voltage is detected on the line. Internal over-temperature: RJCS monitors it's internal temperature and will switch off the load if allowed temperature is exceeded. Under and over-current during "teach" procedure: if less than 84% of minimum teach current or more than maximum load current is applied during "teach" process RJCS will trigger alarm. Thyristor short circuit: RJCS will detect thyristor circuit condition and disconnect the load.

The RJCS solid-state relay is a compact, fully integrated, ready-to-use solution. No need to waste time and space to connect external current transformer or mount a heatsink. RJCS has extremely high current surge capacity (I2t = 18,000 A2s) that allows for use of lower cost automatic fuses.

Typical applications for RJCS relays are in plastics production, packaging and food industries. In plastic and rubber machinery consistent temperature control is a key. RJCS can constantly monitor and ensure that all switched heaters are functioning 100%. Faulty heaters in packaging equipment such as baggers, shrink tunnels and glue sealers can quickly cause a high number of defective packages. RJCS gives an immediate alarm when the heater current drops more than 13% from set point. In food and beverage processing improper heating can spoil food. RJCS's remote control capabilities give a full flexibility to change setup and perform on-line monitoring from a remote Human Machine Interface.

The data sheet can be viewed at: http://www.gavazzionline.com/pdf/rjcs.eng.pdf

Available in the U.S. from:
CARLO GAVAZZI Automation Components, 750 Hastings Lane, Buffalo Grove, IL 60089
Phone: 847.465.6100, Fax: 800.222.2659, Email: sales@carlogavazzi.com, Website: www.GavazziOnline.com

More from Architectural & Civil Engineering Products