Solid State Relay is microprocessor controlled.
Press Release Summary: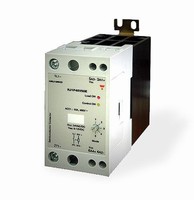 Featuring analog input and proportional output capabilities, RJ1P Series is capable of switching single phase 230, 480, or 600 Vac, up to 50 Aac loads with 5 different operating modes, when controlled by 0-10 Vdc or 4-20 mA signals. Rotary selector stitch is used for selecting preferred mode of operation, either phase angle, distributed full cycle, or 3 types of burst modes (1, 3, and 10 sec). Ready for DIN rail mounting, unit comes with integrated heat sink and varistor.
---
Original Press Release:

Analog Controlled Solid State Relay



May 12, 2008 - Buffalo Grove, IL - Carlo Gavazzi has just released the newest addition to the SOLITRON family of solid-state relays: the RJ1P Series, a microprocessor controlled device with analog input and proportional output capabilities. The RJ1P Series is a single package solution that is capable of switching single phase 230, 480 or 600 VAC, up to 50 AAC loads with 5 different operating modes, when controlled by 0-10 VDC or 4-20 mA signals. The RJ1P Series comes with an integrated heat sink and is ready for DIN rail mounting.

The RJ1P Series solid-state relay provides equipment designers with the ability to precisely control output power. 4mA or 0VDC corresponds to 0% output, linearly increasing to 100% at 20mA or 10VDC. A rotary selector stitch on the front of the device is used for selecting the preferred mode of operation, i.e. either phase angle, distributed full cycle or 3 types of burst modes (1, 3 and 10 sec.). The RJ1P Series is designed to work with analog output temperature controllers for switching a variety of applications, including heating and lighting. It comes with an integrated varistor and has extremely high surge capabilities (I2=18,000A2s).

The RJ1P is ideal for HVAC, lamp and lighting control, printing, plastic and rubber, wood and industrial heating applications and it is a solid complement to Carlo Gavazzi's existing range of SOLITRON products, providing a flexible, single package solution that can serve several purposes.

The RJ1P Series carries the cRUus, CE and RoHS marks, your assurance of a high quality and safe product. They are available from Carlo Gavazzi's North American network of sales offices, distributors or www.GavazziOnline.com, with list prices starting at $162.00.

Any questions regarding this press release should be directed to
Rafal Pabich,
Product Manager:
847.465.6100 x114
or rpabich@carlogavazzi.com

Available in the U.S. from:
CARLO GAVAZZI,
750 Hastings Lane,
Buffalo Grove, IL 60089
Phone: 847.465.6100,
Fax: 800.222.2659,
Email: sales@carlogavazzi.com,
Website: www.GavazziOnline.com

More from Electrical Equipment & Systems