Solid State Drive supports SATA Device Sleep feature.
Press Release Summary: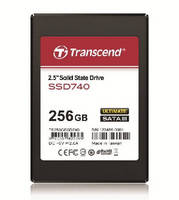 Combining SATA IIIÂ  6 Gbps interface, DDR3 DRAM cache, and JMicron JMF667H controller, 2.5 in. SSD740 achieves read/write speeds up to 530/470 MBps and delivers 4 k random read/write speeds up to 283/267 MBps. Unit fully supports TRIM command, which automatically removes deleted data permanently, and NCQ, which optimizes order in which received read/write commands are executed. Offered in 64, 128, and 256 GB capacities, drive features wear-leveling and ECC for reliable data transfer.
---
Original Press Release:

Transcend Launches New SSD740 SATA III 6Gb/s Solid State Drive



New Delhi, -- Transcend Information, Inc. (Transcend ), a leading manufacturer of industrial-grade products, today announced the addition of the SSD740 2.5" SATA III 6Gb/s solid state drive (SSD) to its industrial SSD product line. Combining cutting-edge SATA III technology with a number of performance and reliability features, the SSD740 is the ultimate SSD upgrade solution – especially for devices equipped with modern processors running more advanced operating systems, such as Ultrabooks, Industrial PCs and notebooks, gaming systems, and handheld appliances.



Outstanding Performance and Durability

Transcend's SSD740 SSD takes advantage of the next-generation SATA III 6Gb/s interface, DDR3 DRAM cache, and an advanced JMicron JMF667H controller to achieve extremely fast transfer speeds of up to 530MB/s read and 470MB/s write. Essential for handling incompressible data, such as videos, music, and images, the SSD740 also delivers impressive 4k random read/write speeds of up to 283/267MB per second. Full support of the TRIM command, which automatically removes deleted data permanently, and Native Command Queuing (NCQ), which optimizes the order in which received read and write commands are executed, allow the SSD740 to sustain an incredibly high level of performance while enhancing SSD durability and efficiency.



High-End Applications

In addition to delivering significantly improved performance compared to standard rotating hard drives, the SSD740 measures just 7mm wide and weighs a mere 52g, offering excellent design flexibility and lightweight benefits to manufacturers of small form-factor devices. It uses the same connector found on 2.5" SATA hard drives and is backwards compatible with the SATA II/I (3Gbps/1.5Gbps) interface, allowing older systems to profit from superior performance. Moreover, with no moving part inside, the SSD740 provides portable device users with cool, silent operation and excellent shock and vibration resistance.



SATA DevSleep Support

To maximize mobile device battery life and enhance ease of use, the SSD740 supports the new SATA Device Sleep (DevSleep) feature. Developed by the Serial ATA International Organization (SATA-IO), "DevSleep defines the lowest power state for SATA technology, allowing the PHY and other circuitry to be completely powered off, unlike existing partial/slumber states, which require a partially powered PHY." Basically, in contrast to reduced power states such as standby mode, DevSleep-compatible portable devices conserve more power by shutting down the SATA interface completely and yet are able to resume working immediately when required.



Built-In Reliability

To further increase the lifespan of the SSD, built-in wear-leveling and Error Correction Code (ECC) ensure reliable data transfer, while full support of the S.M.A.R.T. command helps detect possible hard drive failures before they occur. Transcend's SATA III 6Gb/s SSD740 SSD is available in 64GB, 128GB, and 256GB capacities.



For more information about DevSleep feature, please visit: http://www.sata-io.org/documents/SATA-IO-DEVSLP-Press-Release_FINAL.pdf



Transcend is a globally recognized leader in the manufacture of storage and multimedia products. Established in 1988, Transcend offers a full line of standard and proprietary memory modules, flash memory cards, USB flash drives, portable hard drives, solid-state drives, digital music players, card readers, multimedia products and industrial products. Transcend has manufacturing facilities in Taiwan and China, and has offices in the United States, the United Kingdom, Germany, The Netherlands, Japan, Korea, Taiwan, China and Hong Kong. For more information, please visit www.transcend-info.com

More from Software