Solid-State Drive offers enterprise-grade MLC technology.
Press Release Summary: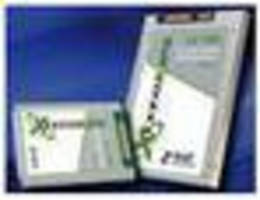 Available in 1.8 and 2.5 in. form factors with SLC or E-MLC NAND technologies, XceedIOPS SATA features SF-1500 processor and handles demanding enterprise workloads. Reliability achieved through flash management techniques such as power and data fail protection, data path protection, and an enhanced error correction code engine. Offered in capacities to 400 GB, drive has SATA 2.6 interface and delivers performance up to 30K IOPS random read/write or 250 MBps sustained read/write.
---
Original Press Release:

SMART Modular Technologies Delivers Industry's First Solid-State Drive with Enterprise-Grade Multi-Level Cell Technology

XceedIOPS SATA solid-state drive provides cost-effective high-performance, high-capacity, highly reliable storage.

NEWARK, CA-SMART Modular Technologies (WWH), Inc. ("SMART" or the "Company") (NASDAQ: SMOD), a leading independent manufacturer of memory modules and solid-state storage products, including solid-state drives (SSDs), today announced the XceedIOPS SATA, its next-generation enterprise-class SSD. Available in 1.8" and 2.5" form factors, the XceedIOPS SATA is offered with either single-level cell (SLC) or enterprise-grade multi-level cell (E-MLC) NAND technologies.

This cost-effective XceedIOPS SATA SSD is the second product in SMART's XceedIOPS family, and the first SSD from SMART to feature the SF-1500 processor from SandForce, Inc. based in Saratoga, California. The XceedIOPS SATA is the industry's first SSD to integrate E-MLC technology, which provides significantly more endurance than SSDs based on commercial MLC NAND flash.

Endurance for E-MLC is specified at 20,000 program/erase (P/E) cycles, whereas current generation commercial MLC demonstrates 1,500 or 5,000 P/E cycles, depending on the NAND flash vendor. The combination of the SF-1500 processor's minimal write amplification and E-MLC flash enables the XceedIOPS SATA SSD to handle the most demanding enterprise workloads. For example, a 5-year lifetime can be easily achieved with a 400GB XceedIOPS SATA in an environment that demands 250MB/s sustained write and a 40% duty cycle.

"Enterprise storage and server system OEMs are looking for SSDs that provide improved performance, reduced total cost of ownership, and high reliability," said Jeff Janukowicz, Research Manager, Hard Disk Drive Components and Solid State Drives at IDC. "SSDs like the new XceedIOPS SATA from SMART that meet these requirements and leverage enterprise-grade MLC and controllers, like the SandForce processor, will help to accelerate the adoption of SSD technology in the enterprise."

Featuring a SATA 2.6 interface and support for native command queuing (NCQ), the new XceedIOPS SATA 1.8" and 2.5" SSDs are optimized for high performance (up to 30K IOPS random read/write, 250MB/s sustained read/write) and high capacity (up to 400GB). High reliability is achieved through flash management techniques such as power and data fail protection, data path protection, and an enhanced error correction code (ECC) engine.

Because of its high random read/write performance, a single XceedIOPS SATA can replace several hard disk drives, thereby saving space, improving reliability, and reducing power consumption. In fact, the 1.8" form factor SSD was specifically designed for space-constrained blade server and high-density computing applications.

"The enterprise SSD market appears to be entering a period of impressive growth. Well-positioned to satisfy the requirements of enterprise deployments, we expect our XceedIOPS SATA SSDs will provide low cost, superior performance, low power, and high capacity flexibility," said Alan Gulachenski, SMART's Vice President and General Manager, Enterprise Solid State Storage.

The XceedIOPS SATA SSDs are sampling this month to strategic customers, with production quantities scheduled for the second quarter of 2010. For more information, visit www.smartm.com.

About SMART
SMART is a leading independent designer, manufacturer, and supplier of electronic subsystems to original equipment manufacturers (OEMs). SMART offers more than 500 standard and custom products to OEMs engaged in the computer, industrial, networking, aerospace, defense, and telecommunications markets. Taking innovations from the design stage through manufacturing and delivery, SMART has developed a comprehensive memory product line that includes DRAM, SRAM, and Flash memory in various form factors. SMART also offers high-performance, high-capacity SSDs for enterprise, defense, aerospace, industrial automation, medical, and transportation markets. SMART's presence in the U.S., Europe, Asia, and Latin America enables it to provide its customers with proven expertise in international logistics, asset management, and supply-chain management worldwide. See www.smartm.com for more information.

SandForce is a trademark of SandForce, Inc.


More from Materials