Solid State Drive features SATA III 6 Gbps interface.
Press Release Summary: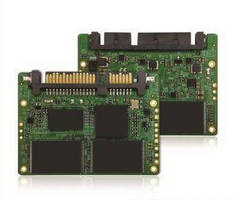 Comprised of toggle-mode MLC NAND Flash chips in 54 x 39 x 4 mm package, HSD740 Half-slim SSD delivers read/write speeds of 510/185 MBps and is available in 32 GB and 64 GB capacities. Unit includes built-in 40 bit/1 KB BCH hardware ECC and wear-leveling algorithm, Native Command Queuing, and full support of S.M.A.R.T. command to help detect possible hard drive failures before they occur. To conserve battery power, drive supports SATA Device Sleep Mode.
---
Original Press Release:

Transcend Releases Fastest Half-Slim SATA III 6Gb/s Solid State Drive



Transcend Information, Inc. (Transcend ), a leading manufacturer of industrial-grade products, today introduced the HSD740 half-slim SATA III 6Gb/s solid state drive (SSD). Featuring the latest SATA specification, Transcend's HSD740 SATA III half-slim SSD delivers peak performance in industrial grade standards, yet offers significantly smaller dimensions and superior long-term reliability than 2.5" form factor hard disk drives.



SSD Performance and Applications

Transcend's HSD740 half-slim SATA SSDs are comprised of high-quality toggle-mode MLC NAND Flash chips, providing excellent solid-state performance in a lightweight compact package that measures just 54mm x 39mm x 4mm. In addition to their convenient compact size, the HSD740 SSD modules feature a high-bandwidth SATA III 6Gb/s interface that helps deliver fast transfer speeds reaching 510MB/s read and 185MB/s write. As a result, Transcend's new half-slim SATA SSDs offer significantly improved performance benefits, greater design flexibility, and cost savings to manufacturers of mobile computing applications such as Ultrabooks, Industrial PCs and notebooks, gaming systems, and handheld devices.



SSD Reliability and Longevity

Designed to ensure reliable performance and long-term stability, Transcend HSD740 half-slim SSD modules undergo extensive quality testing in all stages of production and are equipped with a host of reliability features including: built-in 40bit/1KB BCH hardware Error Correction Code (ECC) and wear-leveling algorithm for long-term reliable data transfer, full support of the S.M.A.R.T. command to help detect possible hard drive failures before they occur, full support of the TRIM command to automatically remove deleted data permanently, and Native Command Queuing (NCQ), which optimizes the order in which received read and write commands are executed.



SSD Supports SATA DevSleep Mode

The HSD740 SATA III 6Gb/s half-slim SSD supports SATA Device Sleep Mode (DevSleep) – the lowest power state for SATA technology. The DevSleep specification, released by the Serial ATA International Organization (SATA-IO), allows SATA SSDs to completely power off the SATA interface when not in use while still maintaining a fast response time of less than 20ms. In compatible notebooks and tablets, the DevSleep ultra low power state conserves more battery power than current power saving features such as standby mode, and yet can return the SSD to an active state immediately when required. Transcend's HSD740 half-slim SATA III 6Gb/s SSDs are compliant with the MO-297 JEDEC standard and are available now in 32GB and 64GB capacities.



Transcend is a globally recognized leader in the manufacture of storage and multimedia products. Established in 1988, Transcend offers a full line of standard and proprietary memory modules, flash memory cards, USB flash drives, portable hard drives, solid-state drives, digital music players, card readers, multimedia products and industrial products. Transcend has manufacturing facilities in Taiwan  and China, and has offices in the United States, the United Kingdom, Germany, The Netherlands, Japan, Korea, Taiwan, China and Hong Kong. For more information, please visit www.transcend-info.com







More from Software