Solid-State Controllers promote magnet lifting capacity.
Press Release Summary: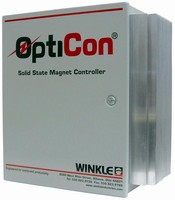 Designed to replace traditional contactors and discharge resistors, OptiCon magnet controllers utilize solid-state IGBTs that provide true control of electrical current to magnets. Three models, rated for 150, 250, and 350 A service, can be installed into new equipment or retrofit into existing systems. Each can be used with any magnet or magnet system, optimizing power delivered to magnet while minimizing excess heat. Controllers also eliminate occurrence of damaging voltage spikes.
---
Original Press Release:

New Maintenance-Free Controllers Improve Lifting Capacity and Service Life for Magnets and Magnet Systems



Winkle Industries has introduced a new series of solid state "OptiCon" magnet controllers that maximize magnet performance and minimize maintenance requirements.

Alliance, OH - Winkle Industries has announced a new line of magnet controllers that achieves significant improvements in the productivity and lifecycle cost of lifting magnets by replacing traditional contactors and discharge resistors with solid state controls.

Joe Schatz, President of Winkle Industries, introduced the new "OptiCon" line of solid state magnet controllers, explaining that the controllers are designed for use with any magnet or magnet system. "Customers have been asking us for a new approach to magnet controllers," he said. "I'm very proud that our engineering team has come through again to develop technology that will enable our customers to operate their businesses more profitably." Winkle plans to feature the new controllers at the upcoming 2007 ISRI and AIST conferences.

OptiCon magnet controllers utilize solid state IGBTs (Integrated Gated Bi-polar Transistors) that provide true control of electrical current to magnets. Traditional contactor-type controllers simply switch DC voltage on and off. The added dimension of current control allows OptiCon controllers to optimize the power delivered to the magnet for maximum lifting capacity while minimizing excess heat. Since heat degrades a magnet's lifting capacity and lifecycle, any magnet can lift more by running cooler throughout its operating cycle with an OptiCon controller.

The solid state design also means the controller has no moving components, so there are no wear parts to service, align or replace. OptiCon magnet controllers reduce controller maintenance tasks from the service schedule and remove components, such as traditional contactors, from the spares inventory.

OptiCon controllers also eliminate the occurrence of damaging voltage spikes, so the lifting equipment's complete electrical system receives an extra level of protection against unscheduled service and downtime.

OptiCon Turns Down The Heat

According to Rich Edling, the lead engineer behind Winkle's development of the OptiCon line, heat reduction is a significant benefit to every aspect of a lifting magnet's performance. "Heat is a detriment to efficient magnet operation," he says. "Every degree of excess heat reduces the lifting capacity and lifecycle of a magnet or magnet system. An added benefit to our controller is electrical current savings. This controller will cut energy costs as well."

Edling further explains that solid state electrical control allows faster drop times than older discharge resistors. This effectively reduces the amount of time that the magnet is powered up during the lift cycle. Again, the result is less heat build-up, lower operating temperatures and potentially more lifts per shift.

A Winkle "end-to-end" solution

While Winkle will offer its own magnet customers a choice of OptiCon or conventional controllers, the OptiCon controllers are also available to users of all makes of lifting magnets and magnet systems, including magnets that are already in service. The OptiCon line includes three models rated for 150 Amp, 250 Amp and 350 Amp service that meet a variety of voltage requirements.

Enclosures for the solid state controllers are more compact than contactor-type controllers, so the OptiCon units are easy to install into new equipment or to retrofit into existing equipment. OptiCon controllers can utilize the existing electrical connections and power supplies provided on any standard mobile or overhead crane. Easily adjustable settings match the controller to the optimum power requirements of each specific magnet system. On request, Winkle will also provide complete field installation and support service.

About Winkle Industries

Winkle Industries is a worldwide leader in engineered solutions for users of mill-duty material handling equipment. Capabilities include below-the-hook lifting devices, mill equipment, crane products, engineering services, aftermarket services, machining and fabrication. Winkle's experience and resources is "raising customer expectations" on a wide range of needs, from innovative product design to customer process improvement.

For more information on Winkle Industries and their complete line-up of products and services, contact:

Amy Weidman
Customer Service

or

Paul Predagovic
Director of Engineering & Production

Winkle Industries Inc.
2080 West Main Street, Alliance, Ohio 44601
Tel: (330) 823-9730 Fax: (330) 823-9788
Email: sales@winkleindustries.com
Visit the web site at www.winkleindustries.com

More from Mechanical Power Transmission