Solid State Contactors feature H Bridge configuration.
Press Release Summary: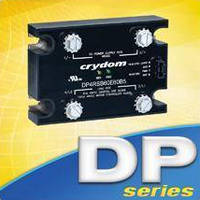 Offering optional soft start, soft stop, and brake functions, DP Series is intended for DC load reversing applications up to 60 A at 48 Vdc. Units accept logic supply and input controls of either 4.5-15 Vdc or 18-32 Vdc. Housed in 75 x 105 mm panel mount package, RoHS-compliant devices feature 2.5 kV optical isolation. Power and load terminations are via screw terminal post, while input control is through 4-conductor connector.
---
Original Press Release:

Crydom Announces the DP Series of Panel Mounted High Current DC Load Solid State Contactors



Crydom's advanced DC Switching Technology is now conveniently packaged in a High Power "H" Bridge configuration with optional Soft Start, Soft Stop & Brake features for use in DC Load Reversing applications up to 60 amps at 48 VDC.

Crydom, a brand of Custom Sensors & Technologies (CST) and global expert in Solid State Relay and Contactor Technology, introduces the DP Series of High Power "H" Bridge configuration DC output Solid State Contactors, including control features for Soft Start, Soft Stop, and Brake functions. Rated for General Use at 20, 40 or 60 amps and Motor Controller rated for 15 FLA from 1 to 48 VDC in a 40 °C ambient temperature, the DP Series accepts logic supply and Input Controls of either 4.5 to 15 VDC or 18 to 32 VDC. Optional Soft Start/Soft Stop functions utilizing internal PWM are available with 0.2, 0.5 or 1.0 second ramps. An optional Brake function (not available with Soft Stop) is available with 0.2, 0.5, 0.8 seconds or continuous hold.

The DP Series Solid State DC Reversers are an all-solid-state design with 2.5 Kv Optical Isolation and incorporate low dissipation power FETs for fast and efficient Load control. Housed in an industry standard 75 x 105 mm Panel Mount package, Power and Load terminations are via screw terminal post, while Input Control is through an industry standard 4 conductor connector. DP Series Reversers are CE certified, RoHS compliant, UL/cUL recognized for both General Purpose and Motor Controller applications.

For additional information about the DP Series DC Reversers including available thermal management accessories, contact the nearest Crydom Distributor, Representative or Local Crydom Sales Office, or visit our website at www.crydom.com.

About Crydom

Crydom, Inc., a Custom Sensors & Technologies brand with global operations, is an expert in Solid State Relay and Controls Technology. Crydom manufactures and commercializes two of the most preferred brands of Solid State Relay around the world; Crydom and Crouzet. Crydom offers a wide variety of off-the-shelf Solid State Relays and Contactors, I/O Modules & mounting boards, Controls and Power Modules, and specializes in custom designed solid state switching solutions for any application. At Crydom, technology and innovation combine to exceed our Customer's most demanding performance requirements.
www.crydom.com

About Custom Sensors & Technologies

Custom Custom Sensors & Technologies (CST) is a specialist in sensing, control and motion products. Through its brands, BEI Kimco, BEI Sensors, BEI PSSC, Crouzet, Crydom, Kavlico, Newall and Systron Donner Inertial, CST offers customizable, reliable and efficient components for mission-critical systems in Aerospace & Defense, Transportation, Energy & Infrastructures, Commercial & Industrial OEMs, Medical, Food and Beverage and Building Management markets.

Focused on premium value offers and committed to excellence, CST, with more than 4,300 employees worldwide and sales of $571M US in 2010, is the dependable and adaptable partner for the most demanding customers.
www.cstsensors.com

Copyright © 2011 Crydom Inc., All rights reserved.

www.crydom.com
www.crouzet-ssr.com

More from Fasteners & Hardware